Luxury Kitchen Remodeling: Unveiling the Secrets to Timeless Elegance
If you are in the market for a new custom kitchen that works seamlessly for you and blends cutting-edge design paradigms with striking visual elegance, this series is for you.
Bromwell Construction is here to take you on a guided virtual tour of the hottest kitchen design trends and show you how tech innovation and functional integration are transforming the way we relate to the heart of our home. We'll begin with a look at the emerging paradigm toward streamlined and multipurpose living spaces and examine the motivations fueling the trend. Next, we'll dig into specifics as we highlight the most desirable items and features you'll want to keep in mind while selecting your design plan.
Choosing the Right Elements for You
Planning your dream kitchen can be an exhilarating experience, but it also requires careful planning and thought. All too often, people get caught up in the rush of creative momentum that accompanies every inspired project. They hastily invest in features that are hot on the market today, but quickly lose their luster as newer inventions come along to replace today's newest trend. This can lead to disappointment, and sometimes a negative return on investment since no one but the occasional collector wants to buy dated technology.
So how does one distinguish the meaningful trend from the empty fad? There is, in fact, a two-part test you can use to ensure your investment is money well-spent. We call it a "Best of Both Worlds Approach" because it applies a long-tail added value test to any upgrade already possessing "Wow!" potential by today's standards. The best part is you can employ this test in all other home-improvement scenarios requiring similar discernment.
And it only consists of two simple questions:
1) What is the context for this trend?
2) How does it add real value to my home or my enjoyment of it?

Diagnosing Fad vs. Innovation
A meaningful trend never arises in isolation, but always exists within a larger paradigm. New paradigms proceed organically from the changing needs of society and solve problems the former model couldn't address. Trends that occur as part of these shifts will have staying power because they are future-oriented. They move the world forward through innovations that enhance our quality of life over the long run. Look for these hallmarks of a good idea when selecting cutting-edge elements.
1. Efficiency Increases
2. Structural Improvements
3. Quality-of-life Enhancements
Unless the trend can provide value in at least one of these areas, it is probably a fad, in which case you would be better off investing your money elsewhere. A trend that satisfies two of these criteria is a solid investment. If it hits all three value markers, it's a must-have.
Must-have Kitchen Elements that Fit the Bill
Next, we'll take a look at several of the most sought-after features our clients have been requesting, and offer some actionable tips to help you choose the features that will maximize your new kitchen's contemporary presence without compromising its staying power.
Custom Storage Options
Perhaps the hottest trend we've seen is the moving away from single-purpose storage units to more flexible, personalized solutions. From the blending of appliances into cabinetry to the creative utilization of under-cabinet and island spaces, the emerging vision is one of compact elegance, with sleek profiles and symmetrical layouts adding depth to the surrounding room, and maximizing both the volume and efficiency of containment space within.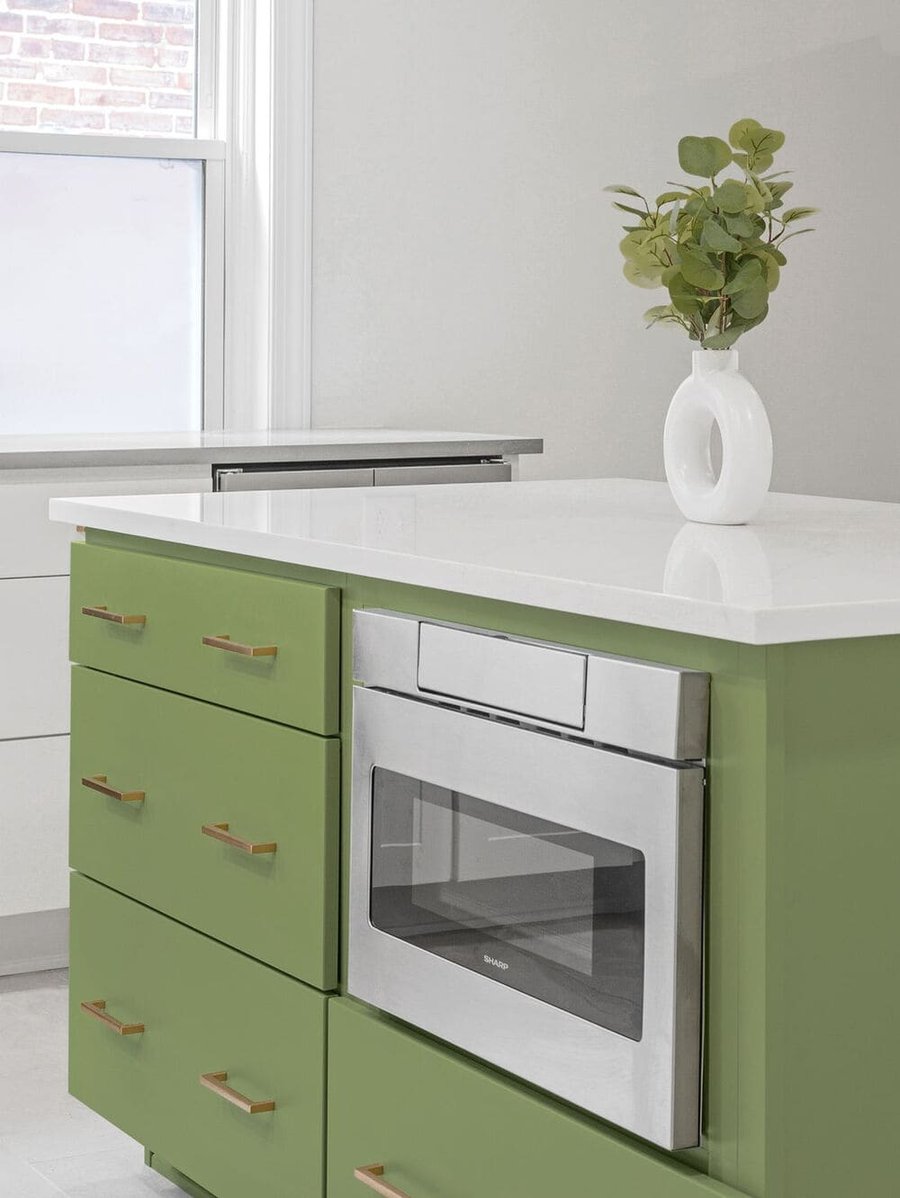 Multipurpose Under-counter Storage System
While the concept itself may not seem new, the degree of versatility embodied by today's storage systems belies a sophistication that speaks to the needs of the busy modern family. The large central island has become an ideal space to include everything from built-in micro refrigerators to stationary and junk drawers and to electronically activated slide out trash and recycling bins. As the trend towards larger and more communally and functional islands continues, we fully expect to see even greater diversification in this area.
Walk-in Pantry
We've tracked emerging interest in carving out a separate, adjoining space for the pantry over the years. Immediately accessible from the kitchen, it functions just like a walk-in closet, and is ideal for storing bulk food and purchases or supplies set aside for parties and other social gatherings. Increasingly, a second refrigerator is also included in the space to store bulk meets, drinks and other overflow items.
Pull-outs, Downs, Ups, and More
In the realm of luxury kitchen renovations, pull-outs (ups and downs) have taken center stage, revolutionizing cabinet functionality and aesthetics. These innovative storage solutions, often hidden behind sleek cabinet facades, offer a blend of accessibility and efficient space utilization, ensuring that every utensil, pot, or pantry item is within easy reach. However, the true beauty of pull-outs lies in their adaptability. With custom cabinet interiors, the design of pull-outs is entirely customizable to cater to the homeowner's unique needs and preferences. Whether you envision deeper compartments for bulky cookware or narrower spaces for spices and oils, the potential configurations are nearly endless, making them a hallmark of high-end, tailored kitchen spaces.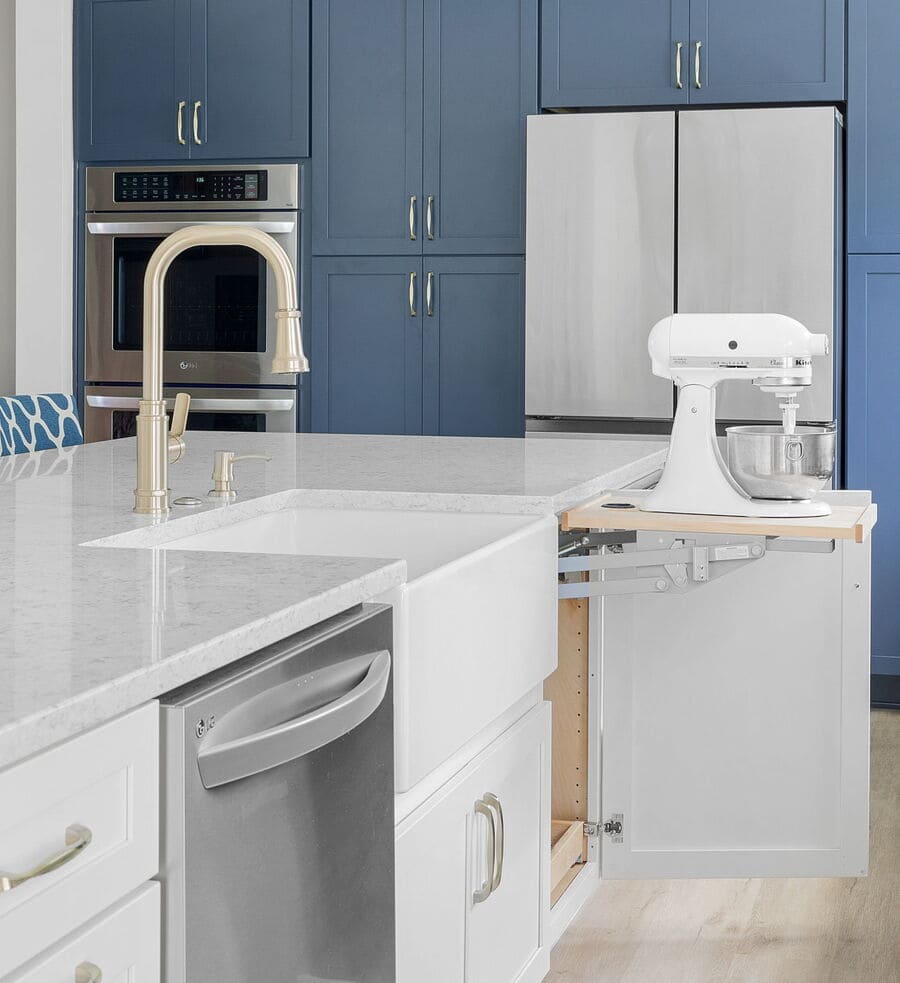 Cabinetry Aesthetics

On the purely visual front, clean, unglazed white is still the prevailing colored tone but we are beginning to see a reemergence of neutral cabinet colors trending in the marketplace. On the functional level, inset doors flush close to the frame with Standard or full overlay are in highest demand. However, the real telltale sign of a high-end cabinet array is that it will be built to fit, rather than selected from prefab measurements presented in the limited offerings of the average local retail store.
The best-fitted cabinets are built to the ceiling. This not only prevents dust bunnies and eschews the need for filler slits, but moreover creates the visual illusion of a higher ceiling. This fact is accented further with the inclusion of decorative lighting spanning the length of the cabinets perimeter.
Make a (Back)Splash
In the realm of high-end kitchen renovations, backsplashes have transformed from mere protective elements to statement-making masterpieces. No longer just a shield against splatters, today's luxury backsplashes serve as a canvas for showcasing personal style and artistic flair. Made from an array of materials – from hand-painted tiles and intricate mosaics to sleek marble slabs and tempered glass – these vertical expanses offer a blend of functionality and sophisticated design. The bespoke nature of high-end backsplashes means they can be tailored to seamlessly blend with or strikingly contrast cabinetry, countertops, and fixtures, thereby anchoring the kitchen's overall aesthetic. These elegant installations reflect not just current trends, but the timeless fusion of art and utility, making them an essential feature in upscale kitchen spaces.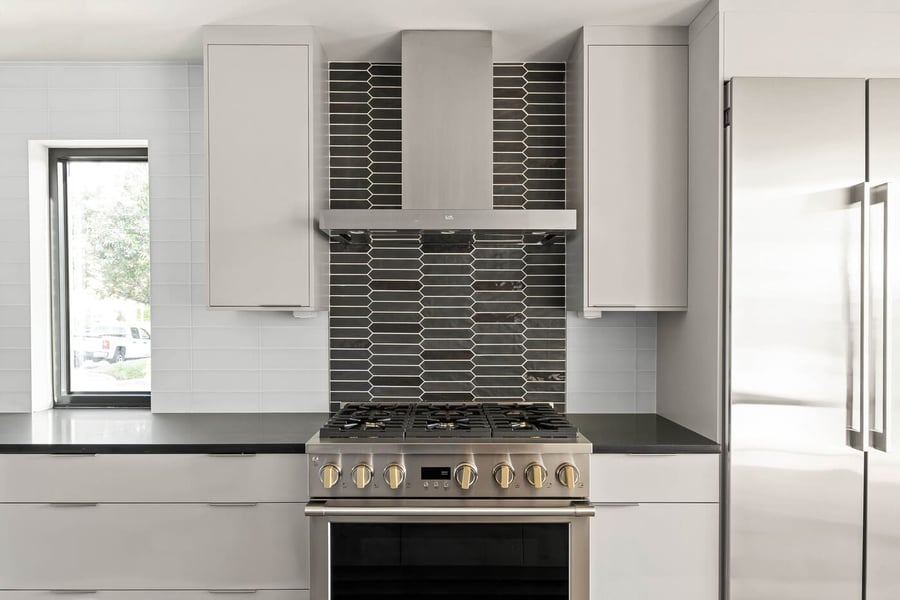 Improved Outside Access
In keeping with the growing demand for natural and effortless transitions from room to room, it is becoming increasingly prevalent among custom kitchen designers to envision the indoor kitchen and its adjoining outdoor cooking and entertaining space as two parts of a single room unified by their mutual function. Consider a pass-through window to make serving meals al-fresco a snap, and add an adjacent egress so the space flows easily from inside to out.
Your Range Matters
The unity of style and access is increasingly reflected in the growing preference for slide-in range stoves over freestanding models. With their burner and oven controls placed prominently upfront, they eliminate the hassle (not to mention the danger) of reaching over a hot surface to make heating adjustments. Designed to accommodate built-to-fit cabinets and countertops, they leave it 2 inch space in the back that is filled with countertop material for a built-in look and feel. Their unfinished sides are perfect for establishing a seamless fit between side-flanking cabinets and allow the stove to glide out effortlessly for an easy clean. Gas cooktops are usually preferred, with surfaces averaging 2″ wider than the stove's body on both sides, creating the visual effect of being built into the countertop while assuring stray crumbs and grease can't slip between the open cracks as often happens with freestanding ranges.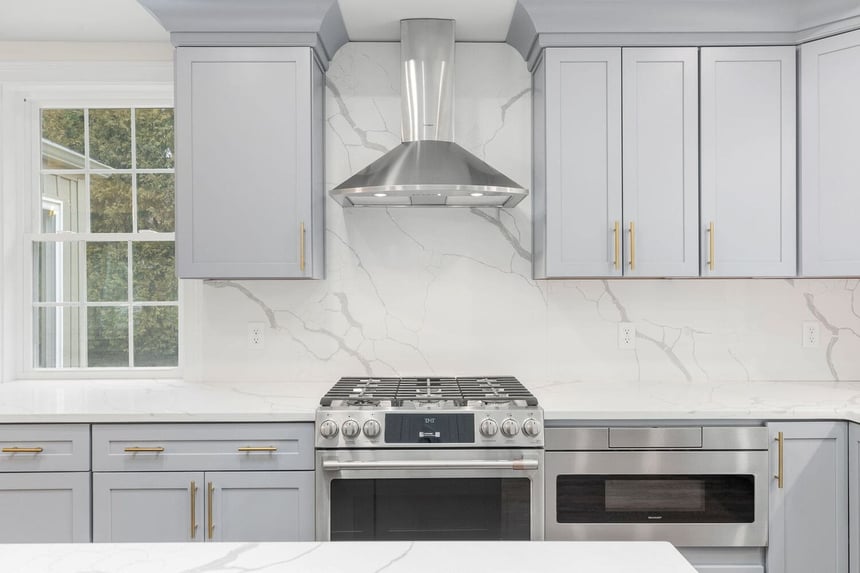 Oven(s) for the Win

Perhaps the most variable of this year's trending kitchen features, the choice of ovens still comes down to preference for cooking, and how much food the house chef plans to prepare. Where quantity is desired for pro-level baking and entertaining, we find double and even triple stoves in high demand. If versatility is the aim, arrays featuring a single full-sized oven beside two stacked half-ovens to be a great option for cooking more food in less time.
Luxe Lighting
A greater number of clients are switching over to using LED lights, both because of their superior power efficiency and the greater clarity they provide. Dovetailing this trend is the growing preference for task lighting. No longer limited to stove space, high-end modern task lighting is installed wherever any type of visually intensive work is to be done. We personally recommend under/counter xenon lights for their brilliance and low heat expenditure.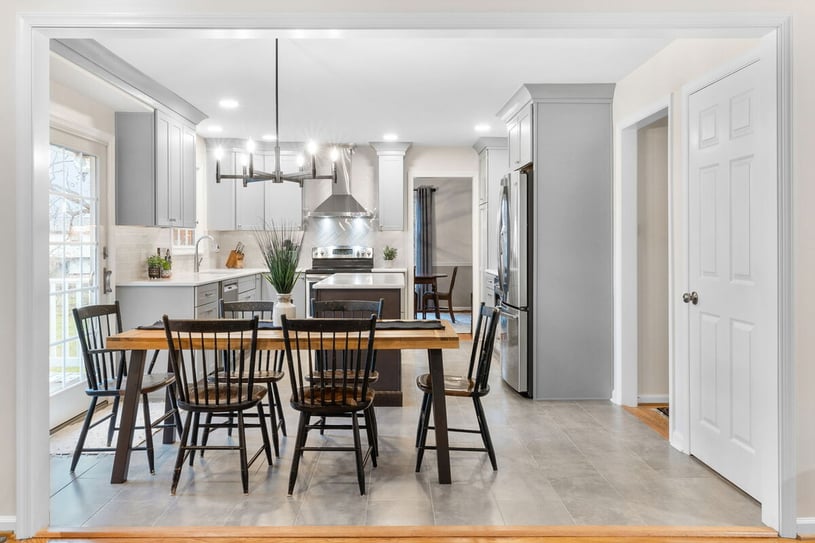 Large Central Islands
The island has long replaced the traditional table and chairs as the central hub of the modern kitchen. Today's islands are larger than in years past, partly to account for their improved storage capabilities, but also to facilitate its other uses as primary food preparation station and main eating area. Modern islands have flat countertops, usually made from luxury stone or quartz, and often serve multiple purposes with designated areas on the island.
Modern islands may feature a small sink and even a garbage disposal. Multiple under-counter trash disposal units with slide-out functionality can be accessed with the push of a button. Island countertops are also an ideal place to situate a small bookshelf dedicated to favorite recipe books.
Wondering what you can expect to pay for the kitchen renovation of your dreams? We explore costs here.
Bromwell Creates Kitchen Bliss
We hope you've enjoyed this virtual tour through luxury kitchens. Thanks again for choosing Bromwell Construction as your go-to source for all things construction-related in Delaware. Ready to talk shop about your kitchen remodel or other home renovation project? We can't wait to meet you!