An Experienced Patio and Deck Builder in Wilmington, Delaware & Beyond
Due to its moderate climate, Delaware is an excellent place to spend evenings in your backyard year round, relaxing or entertaining guests on your deck. But what if your backyard deck exists only in your imagination? If you are looking to finally get that dream deck, or if your old deck is looking shabby and you'd like a fresh start, Bromwell Construction is the deck builder to call here in the Wilmington, Delaware, area. We're a design-build deck contractor that can take your ideas and bring them to life for the ultimate outdoor living experience.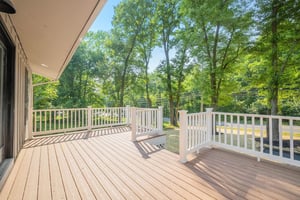 A Custom Deck-Building Company
At Bromwell Construction, we use pressure-treated lumber to frame our decks and then install composite, vinyl, Fiberon, or PVC materials for handrails and deck boards. We use top-of-the-line materials sourced from industry-leading manufacturers such as:
AZEK Decking
Trex Decking
TimberTech Decking
Fairway Railing Systems
Bromwell Construction uses high-quality products from a broad range of manufacturers to guarantee first-rate results that other local deck builders won't match. You'll soon have a durable, attractive deck built to your specifications and installed with the expert craftsmanship of our deck installation crew.
Frequently Asked Questions
We're not the kind of deck contractor that will leave any of your questions unanswered and keep you in the dark about your project. Bromwell Construction will gladly help you make the best, most informed decisions for your home remodeling projects of choice. Here are some questions our customers have often asked us:
What is the average cost to replace a deck in Delaware?
The cost to replace a deck must factor in the cost to tear down the old one and will depend on what kind of deck you want. Costs may vary by the materials you choose and other factors, but we'll help you navigate the marketplace and find the perfect products for your price range.
How often should you replace your deck?
In short, you should replace your deck as soon as it starts showing signs of age. But the timing also depends on the materials used in the construction of your deck. The average wood deck could last 15 years, but an AZEK composite deck could last up to 20 years.
What is the best material to use for a deck?
The best material for your deck is whichever one suits your style and budget. And with plenty of options to choose from, Bromwell Construction is the deck builder to call when you want to ensure you have more than enough great options to choose from.
How long does it take to build a deck?
For professional deck builders, a 12×24-foot deck can take a week or less to build, from start to finish. This timing, as well as the difficult nature of building a deck from scratch as a do-it-yourselfer, is why hiring a contractor is always recommended for this type of project.
Get Started Today
Contact Bromwell Construction to end your search for a custom deck builder in Wilmington, DE and beyond with the utmost confidence.
Schedule a Complimentary Consultation
Customer Reviews
We could go on for hours about the quality of our work, our family's dedication to the craft of home remodeling, and other factors that separate Bromwell Construction from other contractors. But there are no voices more important than those of our past customers. Read what they've had to say about the experience of working with Bromwell Construction:
H. Inden
"We were very pleased with Frank Bromwell's company and their remodel of our bathroom. We live in a very old Victorian house in the City and they were very experienced with old city homes. His crew were great, friendly and very professional. Highly recommended."
D. McMe
"Taking our bathroom down to the studs and putting in a new one the experience with Bromwell was excellent."
H. Baker
"Bromwell came out and installed a new roof and did an awesome job. I hired them back to do my windows. Start to finish, both times were an awesome experience. Everything looks awesome. Would highly recommend."