14 Kitchen Design Trends to Update Your Delaware Home
Looking into ideas for remodeling your kitchen? Perhaps your kitchen screams about the decade in which it was designed. Maybe you're tired of the stilted flow and wear-and-tear of many years. A kitchen remodel can change your daily experience, boost your confidence when guests arrive, and increase your resale price when it's time to move on.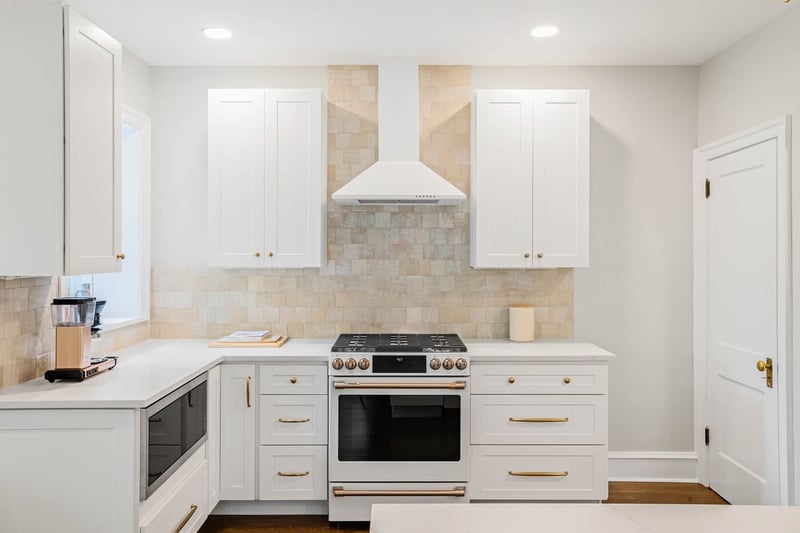 Remodeling your Delaware kitchen means you can personalize every aspect to your preferences, but it's also wise to stay abreast of current kitchen design trends. There may be new features, potential renovations, and remodeling kitchen ideas you hadn't considered but that could enhance your kitchen's beauty, efficiency, and performance. Additionally, you can ensure you are retaining your property's maximum value by keeping it in vogue. Here's a flyover of some of our favorite and most popular trends for Delaware kitchen remodels.
1. Contemporary Backsplashes
In 2023, kitchen backsplash trends are steering towards bold patterns and textures, such as herringbone or Moroccan tiles, for a dramatic flair. There's also a shift towards extending backsplashes to cover larger areas, even up to the ceiling, for a sleek, unified look. Additionally, using unconventional materials like metal or glass, offers an opportunity to make a unique style statement, reflecting the modern homeowner's personal taste and creativity.

2. Open Shelving
One of the kitchen update ideas that appear to be ceaselessly in style is replacing upper kitchen cabinets with open shelving that can showcase antiques, elegant kitchenware, or heirlooms. Open countertop shelves have also emerged as an innovative solution. Especially beneficial for smaller kitchens, these shelves provide additional storage while maintaining a clean, clutter-free aesthetic. This shelving can be made from metal, wood, or glass—whatever will integrate well into your overall kitchen design.
3. Uncommon Sinks
Gone are the days when kitchen sinks were purely functional. In 2023, deep, wide, and stylish kitchen sinks take center stage, offering practicality without compromising on the style quotient. You can turn your sink area from a bland necessity into a beautiful centerpiece by selecting a sink that is unusual and alluring. Apron-front farmhouse sinks are being replaced in popularity by unique sinks made of cast iron, gold, or copper that feature intricate patterns and stunning designs.
4. Spacious Kitchen Design
A trend that is becoming more prevalent in 2023 is the concept of spacious kitchen design. By adopting smart storage solutions, open layouts, and efficient use of space, you can create a kitchen that looks and feels larger and more inviting.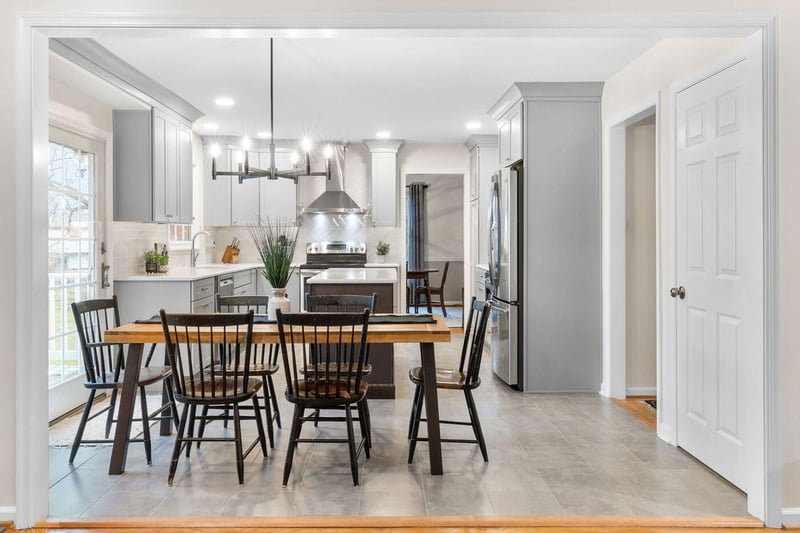 Wondering what you can expect to spend on the Wilmington kitchen remodel you've got planned? Head here for more details.
5. Quartz Countertops
Quartz is a captivating, yet durable material, which is why quartz countertops continue to trend. They have an appealing natural luster and are especially hard, creating a working surface that is suitable for all your kitchen tasks and easy to maintain. Compare the best kitchen materials to learn more.
6. Two-Tone Cabinets
Two-toned cabinets - usually a darker shade on the bottom units with a lighter one on top - offer a striking visual contrast, enhancing the overall aesthetic appeal of your kitchen. You can have the best of two worlds and achieve a modern look with two-tone cabinets. Some trendy color combinations include farmhouse black and gold, seafoam and white, gray and wood, and pale wood and black.

7. Butcher Block Countertops
A wood butcher block countertop can add warmth to all-white or black kitchens while providing a versatile, low-maintenance surface. Kitchen countertops get used for more than cooking, and a butcher block countertop is durable enough to handle a variety of tasks, from building small projects to creating artwork and doing child-friendly activities outside of meal time.
8. Matte Kitchen Cabinets
If you're wanting to maintain a modern look, choose kitchen cabinets with a matte finish rather than high-gloss. Whether it's a matte black, a matte grey, or any other color you fancy, matte cabinets offer a sleek, modern, and sophisticated look that suits any kitchen style. This style picked up pace a couple years ago and remains a contemporary kitchen design feature. Matte cabinets will often hide blemishes and smudges better than their glossy counterparts.

9. Mixed Metals

In a modern kitchen, don't be afraid to mix and match different types of metals to create a diverse, layered look. The 2023 kitchen trend is veering towards mixed metals - an artful blend of chrome, copper, gold, and other metals, each bringing a different vibe to your space. Whether it's the sink faucet, cabinet handles, or light fixtures, different metals can coexist beautifully to create an appealing contrast and depth.
10. Built-in Cabinetry Appliances
The time has come to relocate large appliances, such as microwaves, from upper cabinets or countertops to lower cabinets. The benefit of doing so is a clean, uncluttered look to your kitchen, without decreasing efficiency. And, if you plan to spend your golden years in your home, under-counter appliances will provide extra safety when handling hot food as well.

11. A Splash of Color
All-white kitchens are decreasing in popularity, and homeowners instead are opting for custom cabinets or an island dressed in a wider array of hues. The color palette of a kitchen can dramatically alter its vibe and visual appeal. For 2023, trending kitchen colors seem to steer towards earthy tones like sage green, warm terracotta, and tranquil blues, offering a calming and grounded feel. Don't shy away from bold colors either - a vibrant splash of color on an accent wall or on the cabinets in your coffee bar can significantly lift the ambiance.

12. Appliance Finishes
If you are not ready to commit to a colorful island or bright cabinets, you can still incorporate color into your kitchen through your appliances. Instead of traditional stainless steel, various appliance manufacturers offer the opportunity to add cabinetry panels for a 'built in' look. Creating a very clean, seamless space.
13. Contemporary Industrial Kitchen Elements
Drawing inspiration from old factories and industrial spaces, contemporary industrial kitchen designs provide an unconventional yet chic twist to your kitchen remodeling project. This style combines elements such as exposed bricks, stainless steel, and concrete with modern aesthetics, resulting in a raw, edgy, and visually interesting space.
14. Transitional Wood Kitchen
Transitional wood kitchens are making a remarkable comeback, offering a fusion of classic charm and modern aesthetics. This trend utilizes the natural beauty and warmth of wood, while incorporating sleek, contemporary design elements. The wood can be in your cabinetry, countertops, or even your flooring. Complement this with your choice of contrasting cabinetry - another noteworthy trend for a sophisticated finish.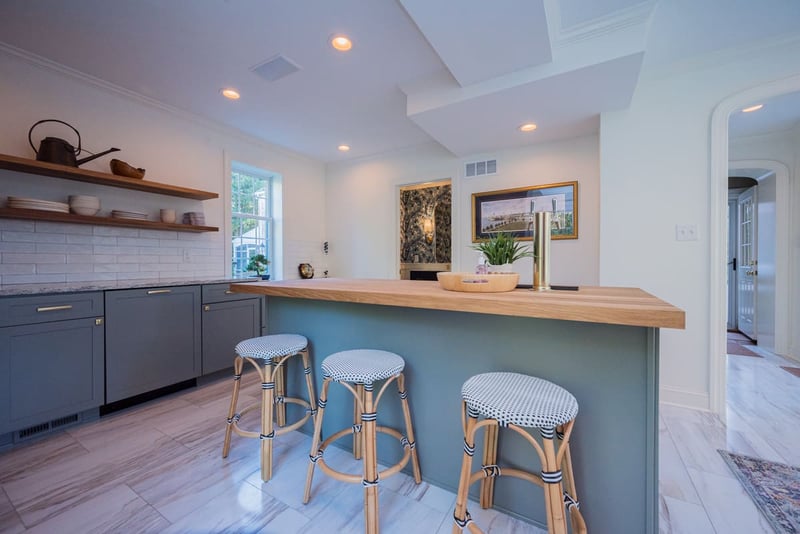 Designing Your Delaware Kitchen
Current kitchen trends offer a wealth of options for homeowners looking to remodel their kitchen for timeless style. Whether you are a fan of quartz countertops, colored cabinetry, or the latest kitchen sink trends, there's surely something for everyone. The key is to choose trends that resonate with your personal taste and the overall design of your home. At Bromwell Construction, we're here to help you navigate these trends and create a kitchen that you'll love for years to come. Get in touch with Bromwell when you're ready to start the conversation that ends in your Delaware dream home remodel.