These World-Class Replacement Windows Will Enhance Your Wilmington, DE, Home
It can be easy to take your home's windows for granted. After all, you probably aren't using them as often as your appliances or other features in your house. But that doesn't mean your windows don't play an important role in your home's composition—and if it's time to replace them, you shouldn't settle for anything less than the best. Bromwell Construction delivers with top-of-the-line replacement windows and the superb installation service you need to ensure they perform at their best for many years. Our home window replacement service is well-regarded in Delaware and parts of Pennsylvania, and we'd love to add you to our long list of satisfied customers.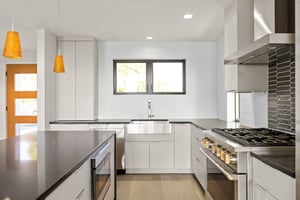 Installing Nothing But the Best Replacement Windows
When you want residential replacement windows that will benefit your home in ways you can (and can't) see every day, you should take a look at our selection. We install replacement windows in all manner of shapes, sizes, and frame materials, all of which are sourced from some of the window industry's biggest names. These include, but are not limited to:
And with countless customization options available to you, you'll be able to design replacement windows that suit your home's aesthetic as perfectly as they suit your functional needs.
Skilled, Local Replacement Window Installers
At Bromwell Construction, we know that any upgrade you have in mind for your home will only be as good as the hands that install them. You can depend on our Pella-certified team of technicians to complete your replacement window installation with the utmost precision and care, ensuring improvements to your home's curb appeal, security, and energy efficiency.
Get Started Today
Get in touch with Bromwell Construction today to set up your free, in-home consultation and learn more about the top-notch replacement windows we install in Delaware and nearby parts of Pennsylvania.
Schedule a Complimentary Consultation
Customer Reviews
We could go on for hours about the quality of our work, our family's dedication to the craft of home remodeling, and other factors that separate Bromwell Construction from other contractors. But there are no voices more important than those of our past customers. Read what they've had to say about the experience of working with Bromwell Construction:
H. Inden
"We were very pleased with Frank Bromwell's company and their remodel of our bathroom. We live in a very old Victorian house in the City and they were very experienced with old city homes. His crew were great, friendly and very professional. Highly recommended."
H. Baker
"Bromwell came out and installed a new roof and did an awesome job. I hired them back to do my windows. Start to finish, both times were an awesome experience. Everything looks awesome. Would highly recommend."
D. McMe
"Taking our bathroom down to the studs and putting in a new one the experience with Bromwell was excellent."