The Bromwell Family's Passion
The Premier Home Remodeling Company in Wilmington, DE
Who is Bromwell Construction? We are a family-owned home remodeling company based in Wilmington, Delaware. And although Bromwell Construction itself was founded in 2015, we built this company with the combined strength of our family's decades of experience in construction, home remodeling, and contracting. Thanks to our decades of experience, we have the expertise, manpower, and resources required to complete every job to your satisfaction. When you're looking for a residential remodeling contractor you can count on for exceptional craftsmanship that results in a high-end aesthetic at your home, look no further than our family.
Why You Should Choose Bromwell Construction
Since 2015, Bromwell Construction has been the home remodeling contractor trusted by many local homeowners who have sought to make their homes more luxurious, inside and out. We stand apart from other area contractors not only because we specialize in elegance but also because we are:
Customer-Centric
We're dedicated to treating your home with the utmost respect. Plus, we'll handle permitting and assign a project manager to oversee your project and keep you informed.
Always Evolving
Bromwell Construction is always up to date on the latest trends within the industry, as well as the most cutting-edge technology to make each project exceptionally efficient.
Transparent
No matter how we serve you, we'll lay out every detail of your project with a step-by-step overview of what you can expect at each phase.
Well-Regarded
In addition to holding numerous certifications within the industry, we're also proud to maintain an A+ rating with the Better Business Bureau.
Customer Reviews
We could go on for hours about the quality of our work, our family's dedication to the craft of home remodeling, and other factors that separate Bromwell Construction from other contractors. But there are no voices more important than those of our past customers. Read what they've had to say about the experience of working with Bromwell Construction:
D. McMe
"Taking our bathroom down to the studs and putting in a new one the experience with Bromwell was excellent."
H. Baker
"Bromwell came out and installed a new roof and did an awesome job. I hired them back to do my windows. Start to finish, both times were an awesome experience. Everything looks awesome. Would highly recommend."
H. Inden
"We were very pleased with Frank Bromwell's company and their remodel of our bathroom. We live in a very old Victorian house in the City and they were very experienced with old city homes. His crew were great, friendly and very professional. Highly recommended."







A Versatile Home Remodeling Contractor
Home Remodelers Focused on Building the Future & Restoring the Past
Bromwell Construction is a team of designers, contractors, and engineers with experience in classical and modern architecture. We blend the newest technology and methods with time-tested construction practices. We combine the best-quality raw materials with our team's expert craftsmanship to ensure that you get the first-class experience you deserve from a luxury home remodeling company. We're committed to excellence in service, response time, attention to detail, and, ultimately, your overall satisfaction. Contact us today to get started.
The Top Local Home Remodeler Near You
Wondering if we work near you? We sincerely hope you're in our service area. Because of our unique location, our services span neighboring regions in Pennsylvania and Delaware. If you're not sure if your location qualifies, give us a call and we'd be pleased to let you know whether Bromwell works in your area.
Bromwell Construction proudly serves residents of Wilmington, DE, and nearby areas such as: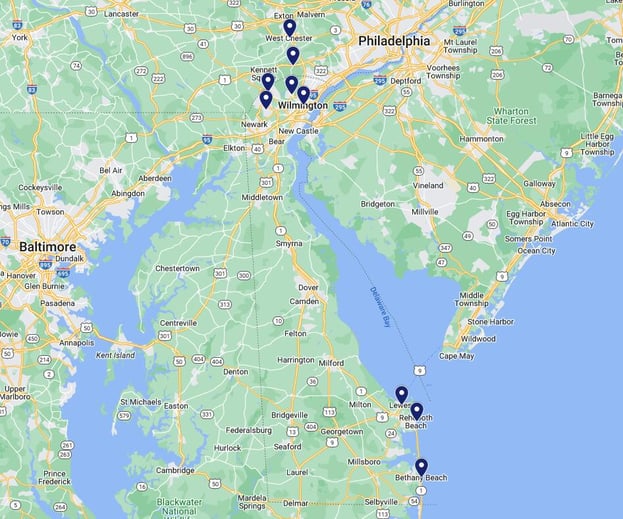 Delaware
- Lewes
- Rehoboth Beach
- Bethany Beach
Pennsylvania
- Chadds Ford
- Main Line