Installing Stunning House Doors for Residents of Wilmington, DE & Surrounding Areas
You know how you may put together an outfit you love, feel that it's missing something, and then complete it with the right accessory? That's what a house door replacement can feel like. Although they only take up a fraction of space on your home's exterior, house doors are there to tie the whole look together. And if your exterior doors are damaged, drafty, or simply not contributing to your curb appeal anymore, call Bromwell Construction. We install top-of-the-line replacement doors that help restore homes in Delaware and nearby areas in Pennsylvania back to their former glory.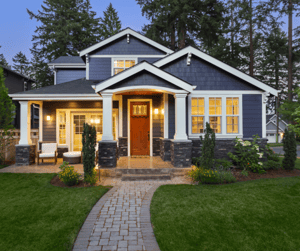 Types of House Doors We Install
Bromwell Construction works with a bevy of renowned house door manufacturers, so the sky is the limit when it comes to what we can help you get for your home. Turn to us for:
Front entry doors that say "Welcome home"
Patio doors that make any trek into your backyard an exciting journey
Storm doors that protect your home without sacrificing any style
Our in-house designer will work with you during your consultation to explore the countless customization possibilities you have and find the best fit for your home.
Expertly Replacing Your House Doors
At Bromwell Construction, we're proud to have earned an A+ rating with the Better Business Bureau. We also know that, in order to maintain our reputation and our customers' faith in us, we can't cut any corners on craftsmanship. Our team of highly skilled and trained technicians will complete the work with the utmost precision and care, and will treat your home with great respect. Plus, a dedicated project manager will oversee the work and keep you up to date through every phase of the door replacement.
Contact Us Today
Ready to see what new house doors can do for your home? Reach out to Bromwell Construction today to set up a free consultation. We serve homeowners in Delaware and in surrounding areas of Pennsylvania.
Schedule a Complimentary Consultation
Customer Reviews
We could go on for hours about the quality of our work, our family's dedication to the craft of home remodeling, and other factors that separate Bromwell Construction from other contractors. But there are no voices more important than those of our past customers. Read what they've had to say about the experience of working with Bromwell Construction:
H. Baker
"Bromwell came out and installed a new roof and did an awesome job. I hired them back to do my windows. Start to finish, both times were an awesome experience. Everything looks awesome. Would highly recommend."
H. Inden
"We were very pleased with Frank Bromwell's company and their remodel of our bathroom. We live in a very old Victorian house in the City and they were very experienced with old city homes. His crew were great, friendly and very professional. Highly recommended."
D. McMe
"Taking our bathroom down to the studs and putting in a new one the experience with Bromwell was excellent."