How Much Does It Cost to Remodel a Kitchen in Delaware?
Budgeting for your Delaware kitchen remodel can be a daunting endeavor, especially if you aren't sure where to start or what you can expect. As in many areas of life, there are some aspects of your kitchen remodeling budget that you can control, and some that you cannot. Your ultimate cost for remodeling your kitchen will depend on your material selections and the scope of the work you have done. Where your choices can impact your bottom line and what do we recommend to align your expectations with your budget? Bromwell Construction Company has got you covered.


Major Vs. Minor Renovation
When you begin your kitchen remodeling journey, it's important to understand the significant differences between a minor and a major remodel, both in terms of scope of work and return on investment (ROI). A minor kitchen remodel typically involves cosmetic changes and updates that can breathe new life into the space without significant structural alterations. It may include tasks such as repainting cabinets, replacing outdated appliances with more energy-efficient models, updating fixtures, and installing new countertops or backsplash.

On the other hand, a larger kitchen remodel entails a more extensive transformation. It often involves altering the layout, replacing cabinets and countertops, upgrading appliances, installing new flooring, rewiring electrical systems, and sometimes even relocating plumbing lines. This type of remodel requires a larger investment of time, money, and resources.

In terms of ROI, a minor kitchen remodel typically offers a higher percentage return. While the exact ROI can vary depending on the local market and specific improvements, a minor remodel tends to provide a better cost-to-value ratio up to 85.7% in our area. Homeowners can expect to recoup a significant portion of their investment when it comes time to sell because they've tackled the major eyesores and issues.

In contrast, a major kitchen remodel may yield a slightly lower ROI due to the higher initial costs involved. However, it can still add substantial value to a home and enhance its appeal to potential buyers, especially if the existing kitchen layout is outdated or inefficient. When you undertake a larger kitchen renovation, layouts or walls might move. It's likely that we'll need to rework plumbing and electrical in order to create the new layout and flow.
However, for most of us, the kitchen is the heart of the home and where much of our daily life happens. Having a space that meets that need and creates memories for years to come is important! The ROI is an important factor when planning your new kitchen.

How Much Does It Cost to Remodel a Kitchen in Wilmington, DE?
While pricing for any home renovation project can vary across the country, there are several factors that go into creating the budget and plan.
To get started, you have to look at what is going to be included within your kitchen remodel? The breakout of items often included in a kitchen remodel are:
Kitchen cabinets

Flooring

Lighting fixtures

Appliances

Countertops

Electrical

Plumbing

Trim and Finishes
In addition to these selections, changing the layout and moving walls adds expense via including labor and materials, architect or kitchen design expenses, permits and fees.
Kitchen Cabinets
In many kitchen renovations, it's not the work "behind the walls" that is the most expensive, it's the finishes that homeowners choose! Kitchen cabinets are frequently the biggest expense.
There are several ways to ensure you don't break the bank when you choose your cabinets and their features. Kitchen manufacturers will say that you need all the add-on items, but carefully look before you decide. In addition, mixing cabinetry colors is another way to save. Perhaps have some details or colored cabinets on the island while choosing a stocked color for other areas.

Cabinet Hardware
Cabinet hardware is not nearly as costly as the cabinets themselves, but it's important to choose hardware that will match the character of your kitchen while also remaining functional.
Flooring
When it comes to flooring, there are many more choices than there were just a few years ago. Today's homeowners have their choice of LVT, tile, hardwood, bamboo options, concrete and more.
This is another area where many home renovations can exceed their budget with their selections. A secret tip: get an idea of what you're looking for and then explore variations that can give you the overall look but at price within your budget. For example, hardwood flooring is truly lovely, however, a luxury vinyl plank floor (LVT) that's similar tone might create a similar effect for a lot less!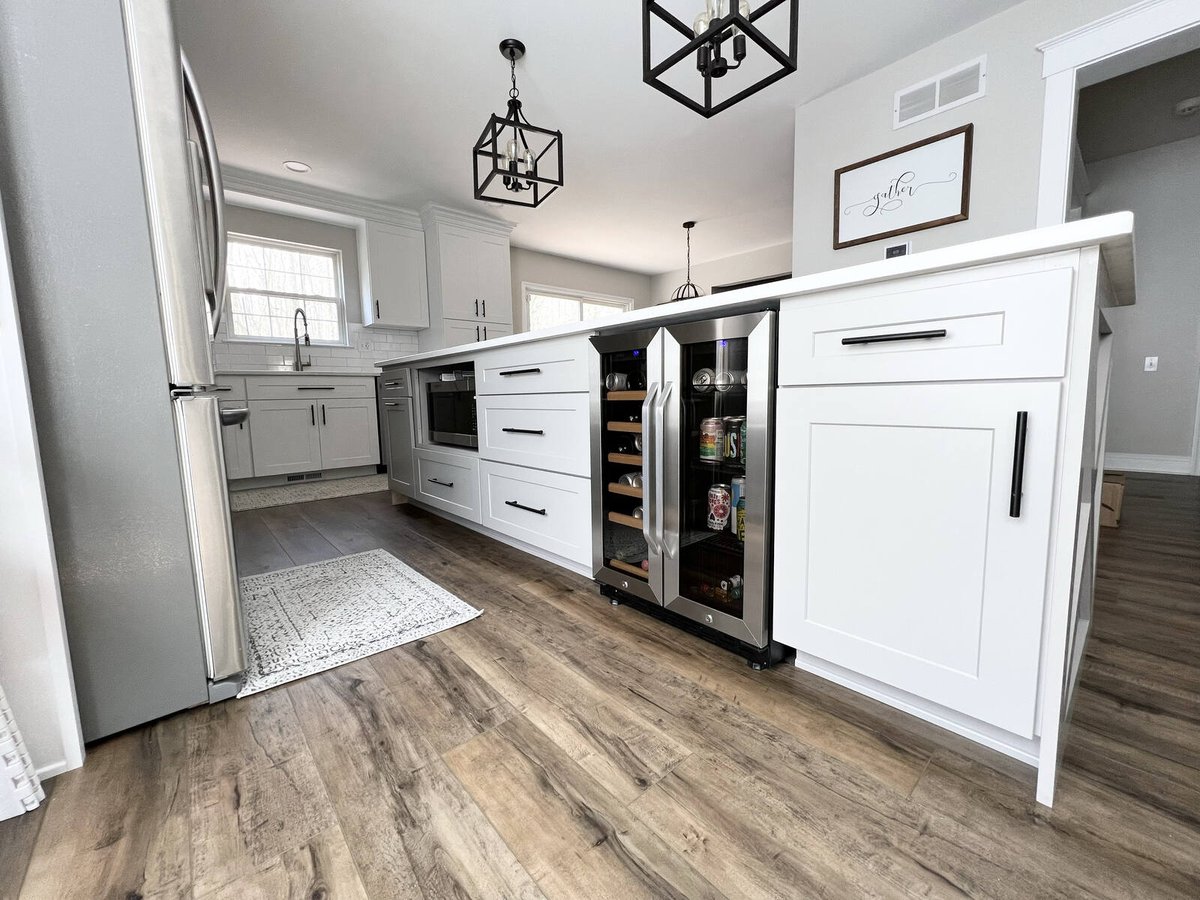 Lighting Fixtures
Having the right lighting in the right places is critical for a productive and functional kitchen. Give yourself permission to splurge on a few lighting pieces that create a "WOW!" effect when you walk in. Consider installing lighting over the island, peninsula or kitchen table if there's space.
Appliances
Appliances can range from budget model packages that cost around $3,000 to custom appliance packages that can cost between $5,000+ based on certain brands, models and features. Choices for appliances should be functional per your preference while also considering the kitchen layout. Your appliances are often not included in the remodeling budget your contractor outlines.
Countertops
Like lighting, your countertops can make a statement for anyone that comes into your home. A little splurge here can have a big impact on the overall appearance of your kitchen. Consider an upgrade for your island and more affordable countertop option for your perimeter to respect your budget.

Like flooring, countertop options have widened significantly in the last few years. At the lower price points, there's laminate and tile. Moving up, there's Corian or Silestone quartz countertop options as well as various granites. Granite pricing can vary from affordable to costly, depending on which granite you choose. Other newer options that have become popular are marble and concrete counters.

Trim and Finishes
Details like trim and finishes can make a tremendous impact on the overall look, feel and usability your new kitchen. Going through each item carefully to determine those that you need versus those that are simply "nice to have" will help you keep an eye on your costs and budget.

Electrical and Plumbing
Your plumbing and electrical expenses will depend on all the other decisions that you make regarding your kitchen and the space available. Are you moving walls and plumbing and electrical access with them? Finding quality contractors that can provide you with the features you need as well as the results that you want is critical.
How Much Should I Budget for Kitchen Remodel?
The average cost of remodeling a kitchen in Wilmington DE in 2023 will vary quite a bit depending on what's being done. A modest kitchen remodel, what we discussed earlier as a minor kitchen remodel may cost as little as $27,279, according to 2023 statistics from Remodeling Magazine's Cost vs. Value Report. Major remodels could cost significantly more, with mid-range kitchen remodels averaging $77,897 last year and upscale kitchen remodeling projects in our region averaging $155,709. These are averages, meaning that some remodels within this scope cost less, and some cost more.

This means that kitchen budgeting can be tough, especially considering how much variation there is between individual projects. Most homeowners need to seek quotes from contractors before they can make a firm budget. Your kitchen remodeling contractor will provide a much more detailed kitchen remodel cost breakdown for the scope of the work that you're hoping to perform.
We recommend that you with your kitchen remodeling contractor to discuss your goals and kitchen budget breakdown. Know your "must haves" versus your "nice to haves." Have an approximate total cost in mind when you're talking to your contractor, but don't feel a firm commitment to that cost.
For example, you may tell your contractor that you'd like to spend an amount around $75,000, but you could go as much as $10,000 higher. If you have a total not to exceed cost, tell your kitchen remodeling contractor that as well. Your contractor will be able to tell you if your expectations are realistic, and if not, may be able to suggest alternatives that can help you meet your goals.

Wilmington Kitchen Remodels
"Kitchens Should Be Designed Around What's Truly Important – Fun, Food and Life." Daniel Boulud, Chef/Restaurateur
Our top kitchen remodeling advice? Understand what you can control and what you can't. There are places where your material selections can impact the pricing for your kitchen remodel, such as in selecting your countertops and flooring. And then there are some places where the pricing is going to be based on your design and layout, such as plumbing and electrical, and there's little that can be done about the price related to the required scope of work. Kitchen renovations in Wilmington, DE, like many places around the country, have a wide range in pricing.
Ready to make your kitchen dreams real? Bromwell proudly serves homeowners in the communities of Wilmington, North Wilmington, Greenville, Hockessin, Chadds Ford PA and many other locations. Contact Bromwell Construction today to get started!