A High-End Bathroom Remodeling Contractor That Can Create a Luxurious Oasis in Your Wilmington, DE, Home
It is an oft-stated truism that the home is one's castle. Your bathroom, therefore, can be seen as your personal sanctuary, a place of retreat for cleansing, relaxing and clearing your mind. Considering the amount of time people spend in their bathrooms, it should come as no surprise that these rooms play a critical role in adding value to your home while providing a fantastic outlet for you to express your unique personality. All it takes is finding the right bathroom remodeling contractor.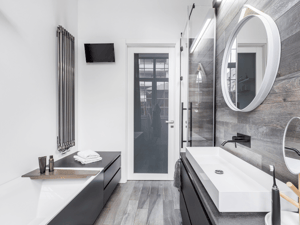 At Bromwell Construction, we are committed to providing you with a beautiful, spacious and efficient room with our comprehensive bathroom remodel services. From modern and chic to eclectic and historical, we will implement whatever design you require.
Full-Service Bathroom Remodeling
Our extensive catalog includes templates for some of the most in-demand bathroom styles today. Categories include:
Contemporary bathrooms
Historic bathrooms
European/Victorian bathrooms
Eclectic bathrooms
Rustic bathrooms
No matter what size your existing bathroom or powder room is, Bromwell Construction can work with it. We have extensive experience installing all bathroom sizes, large and small, in both adjacent and free-standing formations. Services we offer include:
Flooring
Lighting
Steam shower installation
Ergonomic upgrades
Ceiling fixture installation
Appliance installation
Plumbing
Electrical work
Removing walls or adding new ones
A Transparent Bathroom Remodeling Contractor
The last thing you want is to feel like your bathroom remodeling company is keeping you in the dark during your home improvement project. Bromwell Construction will never do that to you. Once we understand the scope of work, we'll lay out the entire remodeling process step by step, and we'll also assign a dedicated project manager to oversee your project and keep you informed at all times.
Frequently Asked Questions
Bromwell Construction's bathroom remodelers can do just about anything. And because we offer so many possibilities, we're also asked many questions. Here are a few that we often get from homeowners looking to transform their bathrooms:
1. How long should a bathroom renovation take?
Similar to kitchen renovations, the length of your bathroom remodel will depend on a few different factors. The scope of your bathroom remodel will directly affect the timeline of your remodel. Additionally, your decisiveness and approval of any items before and during the remodel will either propel or hinder the speed of your project. The larger the scope of the project, the longer it will take to complete. A full gut remodel will take longer to complete than only replacing flooring or fixtures. For a better understanding of what to expect, learn about the meeting and design process before we get started.
2. How much will my bathroom remodel cost?
Of course, your specific remodeling costs will depend on the level of remodeling, the features you choose, and the size of your space. At your free in-home consultation, we'll listen carefully to your remodeling goals and help you get a better idea of how much it will cost to achieve them.
3. Are your bathroom appliances energy efficient?
Yes! We think it is important to minimize your utilities use and cost by installing appliances that conserve water, thus decreasing your monthly water bill.
Begin Today
Ready to transform your bathroom with help from the finest bathroom remodeling contractor in the greater Wilmington, DE, area? If so, contact Bromwell Construction to schedule your consultation.
Schedule a Complimentary Consultation
Customer Reviews
We could go on for hours about the quality of our work, our family's dedication to the craft of home remodeling, and other factors that separate Bromwell Construction from other contractors. But there are no voices more important than those of our past customers. Read what they've had to say about the experience of working with Bromwell Construction:
D. McMe
"Taking our bathroom down to the studs and putting in a new one the experience with Bromwell was excellent."
H. Inden
"We were very pleased with Frank Bromwell's company and their remodel of our bathroom. We live in a very old Victorian house in the City and they were very experienced with old city homes. His crew were great, friendly and very professional. Highly recommended."
H. Baker
"Bromwell came out and installed a new roof and did an awesome job. I hired them back to do my windows. Start to finish, both times were an awesome experience. Everything looks awesome. Would highly recommend."