The Whole-House Remodel Experts Elevating Wilmington, DE, Homes
Your home is dated. It's not supporting your needs or making your life easier. We don't blame you for daydreaming about living in bespoke luxury. You can keep the location you love and achieve all of your design dreams by remodeling your entire home. You could complete each home remodel you've got planned at a time, enduring chaos and upheaval every time, or you could undertake one smooth process that leaves your home exactly as you imagined it.
Bromwell Construction is a complete home renovation contractor ready to remodel your whole house. Ready to redesign your home with the high-end aesthetic you desire and experience a process you can enjoy and trust? Our name is known throughout Delaware and parts of Pennsylvania for our uncompromising quality.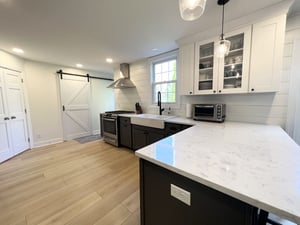 What Does Complete Home Remodeling Mean?
A full home renovation takes on many areas of your home at once and makes large updates and changes. We may convert space from one room to another, change the layout, create new living space, and more. When you want a sweeping transformation to alter many parts of your home at once, you need a partner like Bromwell Construction. Our full-home remodeling service involves taking care of several home upgrades simultaneously, including:
Layout/floor plan upgrades
Home additions (Primary suite, second story, mudroom, home office, sunroom, etc.)
Flooring replacements and upgrades


How Do I Get Started with a Whole Home Remodel?
Your whole-house remodel begins with collaboration with our talented in-house designer to find the best ways to bring your vision to life. Then, we'll lay out the remodeling process for you, step by step, and assign a dedicated project manager to oversee the work and keep you informed at all times. You'll know how long your whole home remodel will take and how much it will cost once we have a detailed and personalized plan. Our highly skilled and certified technicians will then get to work, using the latest technology and best installation practices to get you top-caliber results. Before you know it, your whole house remodel will be complete and you'll feel like you really did walk right into your daydream!
Plan Your Whole-Home Renovation With Remodel Experts
If your dream home is fresh in your mind, there's no time like the present to contact Bromwell Construction about a whole-house remodel project. Reach out today to schedule your free, in-home consultation and learn how we rejuvenate homes in Delaware and nearby parts of Pennsylvania.
Schedule a Complimentary Consultation
Customer Reviews
We could go on for hours about the quality of our work, our family's dedication to the craft of home remodeling, and other factors that separate Bromwell Construction from other contractors. But there are no voices more important than those of our past customers. Read what they've had to say about the experience of working with Bromwell Construction:
H. Baker
"Bromwell came out and installed a new roof and did an awesome job. I hired them back to do my windows. Start to finish, both times were an awesome experience. Everything looks awesome. Would highly recommend."
H. Inden
"We were very pleased with Frank Bromwell's company and their remodel of our bathroom. We live in a very old Victorian house in the City and they were very experienced with old city homes. His crew were great, friendly and very professional. Highly recommended."
D. McMe
"Taking our bathroom down to the studs and putting in a new one the experience with Bromwell was excellent."
The Premier Local Home Building & Remodeling Contractor in the Greater Wilmington, DE, Area
You're ready to create a life of luxury. Don't rely on the average local home remodeling contractor—choose one that specializes in splendor. In other words, you need Bromwell Construction. Based in Wilmington, Delaware, we're top-rated home builders known throughout Delaware and parts of Pennsylvania for incorporating a high-end, elegant aesthetic into projects of all sizes. Whether you're interested in a small bathroom remodel or something as big as building a custom home, we can handle it—and bring an air of personalized refinement to the finished renovation.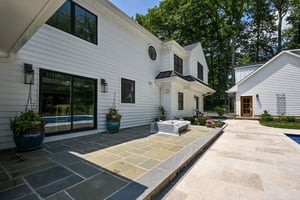 The Top Local Home Remodeler Near You
Wondering if we work near you? We sincerely hope you're in our service area. Because of our unique location, our services span neighboring regions in Pennsylvania and Delaware. If you're not sure if your location qualifies, give us a call and we'd be pleased to let you know whether Bromwell works in your area.
Bromwell Construction proudly serves residents of Wilmington, DE, and nearby areas such as: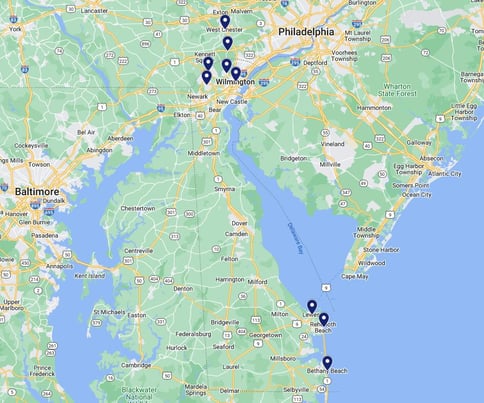 Delaware
Lewes
Rehoboth Beach
Bethany Beach
Pennsylvania
Let Bromwell Construction Transform Your Home
Ready to work with a local home remodeling contractor that can help you live the luxurious life you deserve? Contact Bromwell Construction today to learn more about the services we offer in Wilmington, DE, and beyond.