Guide to Luxury Kitchens [Part 1: Intro to Luxury Kitchen Design]
If you are in the market for a new custom kitchen that blends cutting edge design paradigms with striking visual elegance, then this series is for you.
We'll take you on a guided virtual tour of the hottest kitchen design trends and show you how tech innovation and functional integration are transforming the way we relate to the heart of our home. We'll begin with a look at the emerging paradigm toward streamlined and multipurpose living spaces and examine the motivations fueling the trend. In Part 2, we'll dive into specifics as we highlight the most desirable items and features you'll want to keep in mind while selecting your design plan.
Related: How Much Will a Kitchen Remodel Cost?
2 Questions to Ask Yourself When Planning Your Dream Kitchen
Planning your dream kitchen can be an exhilarating experience, but it also requires wisdom. All too often, people get caught up in the rush of creative momentum that accompanies every inspired project. They hastily invest in features that are hot on the market today, but quickly lose their luster as newer inventions come along to replace existing ones. This can lead to disappointment, and sometimes a negative return on investment since no one but the occasional collector wants to buy dated technology.
So how does one distinguish the meaningful trend from the empty fad? There is, in fact, a two-part test you can use to ensure your investment is money well-spent. We call it a "Best of Both Worlds Approach" because it applies a long-tail added value test to any upgrade already possessing "Wow!" potential by today's standards. The best part is you can employ this test in all other home-improvement scenarios requiring similar discernment.
And it only consists of two simple questions:
1) What is the context for this trend?
2) How does it add real value to my home or my enjoyment of it?
A meaningful trend never arises in isolation, but always exists within a larger paradigm. New paradigms proceed organically from the changing needs of society and solve problems the former model couldn't address. Trends that occur as part of these shifts will have staying power because they are future-oriented. They move the world forward through innovations that enhance our quality of life over the long run. Put plainly, a good trend is always a game changer.
How to Know if a Kitchen Design Feature Is Just a Fad
A worthwhile trend will also bestow a clearly definable benefit that immediately enriches your use and enjoyment of a given part of your home. The question of benefit turns on the idea of real added value. Look at the promised benefit and ask yourself what kind of real value it has to offer.
It is imperative to realize that there are only three kinds of value that maintain currency over time:
1. Efficiency Increases
2. Structural Improvements
3. Quality-of-life Enhancements
Unless the trend can provide value in at least one of these areas, it is probably a fad, in which case you would be better off investing your money elsewhere. A trend that satisfies two of these criteria is a solid investment. If it hits all three value markers, it's a must-have.
We've applied this same test to every feature we'll be recommending throughout the series, and have spotlighted only those upgrades we believe have the power to maximize your new kitchen's overall value on at least two of the three levels. These same features are all in very high demand and represent the state-of-the-art in today's custom kitchen arena.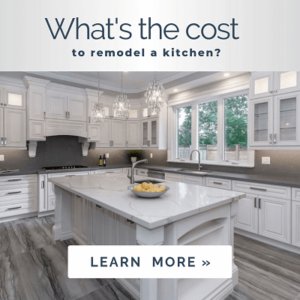 Luxury Kitchen Design: The Big Picture
We stated above that meaningful trends don't occur in isolation. So what is the paradigm that has given birth to the best kitchen innovations of our time? To sum it up in a word: Fusion.
There is a growing awareness among today's top kitchen designers that beauty and utility are complementary, that their unified expression enhances our enjoyment of the room, and that such unity can be expressed at every level, from the space itself down through the appliances it contains. This emerging vision is consumer driven, reflecting the needs of the modern family. Contemporary kitchens favor sleek, stylish interiors with smooth transitions to adjacent rooms and the outside. Form and function merge, creating the overall effect that the kitchen is, in fact, two rooms rolled into one. Its outer face reveals the beauty and personality of its design, while powerful and efficient technologies lay concealed behind closed storage spaces awaiting the user's command.
Related: How Long Does a Kitchen Remodel Take?
This is a synergistic approach blurring the boundary between style and serviceability. The end result is greater efficiency and the freeing up of potential that follows naturally from having more space to work with. New possibilities emerge as homeowners begin to envision the myriad ways they can tailor their kitchens to meet specific goals and reflect the uniqueness of their personalities.
Perhaps the best part is finally having the space to enjoy time with family and friends, to work on that personal project, or whatever else you can think of, all within reach of the little pleasures and finer things that make a house into a home.
We hope you will enjoy our picks for our Luxury Kitchens Guide. Also, if this article was helpful to you, don't be afraid to let the world know! Like us on Facebook or follow along on Twitter. Your support goes a long and means quite a lot to us. Thanks again for choosing Bromwell Construction as your go-to resource for all things construction-related in Delaware!