The Home Remodeling Contractor to Call for Luxury Living in Wilmington, DE
Anyone looking for a home remodeling contractor in Wilmington, Delaware, that can turn their house into a luxury home can rest assured Bromwell Construction is fit for the task. High-end renovations have been our specialty since 2015, and we'll be happy to show you firsthand how we've earned a sterling reputation among local homeowners.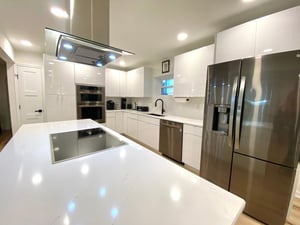 Our Home Improvement Services
Contact Bromwell Construction when you need an experienced home remodeling contractor for the following projects:
Whole-Home Renovations
Our luxury home remodeling service can transform an entire interior, from the floor to the ceiling, creating a magazine-worthy aesthetic.
Home Additions
From new bedrooms to eye-catching sunrooms, Bromwell Construction can build nearly any kind of home addition. We'll also handle the construction drawings and permitting, if needed.
Kitchen & Bathroom Remodeling
You spend plenty of time in your home's kitchen and bathrooms. Why not make some big changes? For new-look rooms with increased functionality and elegance, we're the home remodeling company to call.
Replacement Services
Bromwell Construction can outfit your home with a new roof, house siding, replacement windows, or exterior doors. Plus, because we source our products from industry-leading manufacturers, you can count on years of reliable performance.
Custom Home Building
The luxury home of your dreams may not exist yet, but that can change with a call to Bromwell Construction. Share your home-building wants, needs, and goals with us, and we'll work with you to make them happen.
Wilmington's Premier Home Remodeler
Here in Wilmington, DE, there may not be a shortage of home remodeling contractors, but there's only one for residents in search of high-end, high-quality work: Bromwell Construction. Contact us today to learn more.
Schedule a Complimentary Consultation
Customer Reviews
We could go on for hours about the quality of our work, our family's dedication to the craft of home remodeling, and other factors that separate Bromwell Construction from other contractors. But there are no voices more important than those of our past customers. Read what they've had to say about the experience of working with Bromwell Construction:
H. Baker
"Bromwell came out and installed a new roof and did an awesome job. I hired them back to do my windows. Start to finish, both times were an awesome experience. Everything looks awesome. Would highly recommend."
D. McMe
"Taking our bathroom down to the studs and putting in a new one the experience with Bromwell was excellent."
H. Inden
"We were very pleased with Frank Bromwell's company and their remodel of our bathroom. We live in a very old Victorian house in the City and they were very experienced with old city homes. His crew were great, friendly and very professional. Highly recommended."