How Much Does It Cost to Remodel a Basement in Delaware?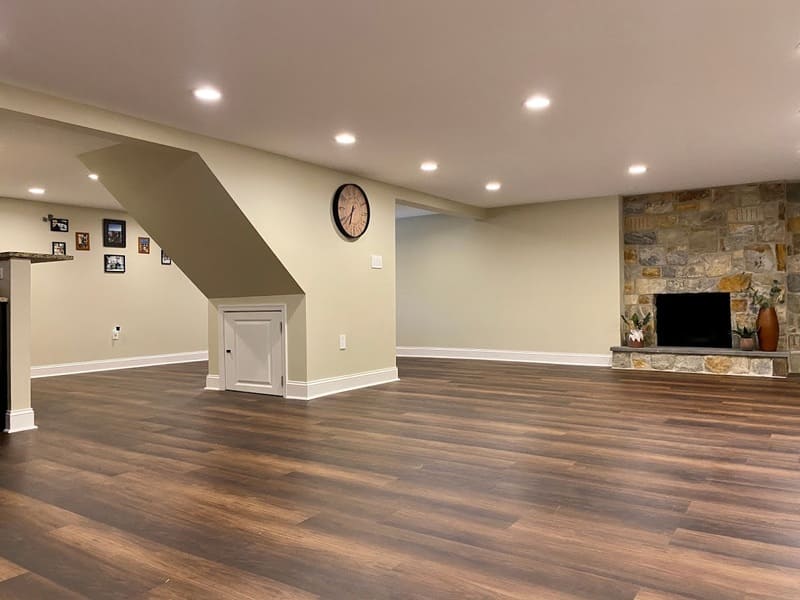 There are several good reasons to renovate the basement in your home, whether you're hoping to maximize the functionality of an existing space for your family or create a specialty area such as a gym, game room, or wet bar.
By transforming your basement into a useful, inviting space, you can further enhance the appeal of your home and increase its long-term value. This transformation doesn't happen overnight. It requires a significant investment of time and money, which may leave you trying to decide whether finishing your Delaware basement is worthwhile.
What Does a Basement Remodel Cost in Delaware?
As with most home improvement projects, the cost of remodeling your basement in New Castle County will depend on a variety of factors, including the current size and condition of the space and how you envision using it in the future.
When finishing your basement, you can choose a number of different features to add, all of which will impact the price. The cost of your basement remodel also depends on whether you're starting with a completely unfinished basement—which may lack a ceiling, insulation, and proper utilities—or if you're simply renovated your finished basement to support a new function.
How much does it cost to finish a basement?
In general, the average cost to finish a basement per square foot is between $25 to $50. However, depending on the scope of the project and the type of materials selected, homeowners pay much as $90 to $100 per square foot for their basement remodel in Delaware.
For a 1,000-square-foot basement, the cost of your basement remodel in Delaware will likely cost between $45,000 and $79,000, depending on whether you choose a basic-, mid- or upper-level renovation. To remodel or finish a 1,200 square foot basement, that cost may go up as high as $100,000 or more.
The different tiers of costs depend on the quality of the finishes; whether you want a dedicated room or two; and the type of layout. If your basement is closer to 1,500 square feet, your project could cost between $67,000 to $108,000 – again, depending on the scope of the project and if you want a bathroom or other dedicated rooms. The cost to install bathroom in basement depends on the presence of plumbing in your basement and other factors.
To give you a better idea of what to expect price-wise to accomplish your specific vision, below are a couple popular basement remodeling projects and their average costs in Delaware:
Wet Bar
The cost to build a basement wet bar is an average of $8,000, although some custom project can approach the $20,000 price point. This price encompasses countertops, cabinetry and storage, shelves, lighting, plumbing, electrical wiring and outlets, refrigeration units, a sink, and design fees.
Bathroom
Like installing a wet bar, building a bathroom in your basement is a more complex project because of the type of fixtures and electrical wiring and plumbing that are often involved. On average, the cost of adding a bathroom to your basement is about $15,000 to $30,000.
Home Theater
Another popular use for a finished basement is a home theater or media room. Taking into account the cost of acoustic materials, risers, seating, quality carpeting, and a full audio/visual setup, you could pay about $40,000 to $50,000 to convert a basement into an upscale home theater.
In-Law Suite
You also could choose to turn your basement in a full-blown in-home apartment or in-law suite. To create a completely outfitted living space for a relative or tenant, you will need to add space for a bed, as well as bathroom and kitchen facilities. Typically, the cost for an in-law suite in a converted basement is about $40,000 to $75,000.
Home Gym
Converting your basement into a home gym may be one of the cheaper options because it doesn't require a bunch of fancy features or new plumbing. You just need a well-ventilated, comfortable environment with the right type of flooring and equipment to accommodate your particular fitness routine. The cost to convert a basement into a gym is generally between $6,000 and $15,000.
For most basement remodels, a portion of your budget will involve the upfront work, which includes space planning and layout design, the services of a dedicated project manager, and all labor and materials. The cost often does not cover demolition, adding egress windows, or your permitting fees, which will need to be factored separately into your overall project price.
Is it Worthwhile to Finish a Basement?
For many homeowners, the basement is an uninviting, uninhabitable room hidden that is hidden beneath an otherwise comfortable home. It rarely or never gets used—making it virtually wasted space. Instead of neglecting or forgetting about your basement, you could turn this area into an entertainment room, extra bedroom, playroom, wine cellar, art studio, home gym, or even a sub-level garage, any of which are worth the estimated basement finishing cost.
When weighing cost versus benefit, it's good to note that finishing a basement tends to produce an approximately 70% return on investment (ROI), because you're functionally creating more livable space on your property. The ROI for a basement remodel depends on what new type of room you create, ranging anywhere from about 55% for installing a basement bathroom to significantly more for a complete in-home apartment.
Additionally, there is value to be gained beyond a tangible ROI. With a well-planned basement remodel in Delaware, you can create a haven of higher functionality and style that offers more space to entertain, house visiting family members, or efficiently store items, while also reducing moisture and rot problems. This additional residential space can make it feasible for your family to remain in your beloved home and community in New Castle County instead of having to move elsewhere as you grow in size or your needs change.
Why Should You Finish Your Basement in Delaware?
There are many reasons to finish a basement in Delaware! If your basement is a damp, dark space that serves mostly to hold your furnace and boxes of seasonal clothing, your home could benefit from a basement remodeling. Below are some reasons to remodel your basement.
Increase useable/livable space in your home. Finishing your Delaware basement adds to the useable space in your home, giving you a place to spend time during the day – or even a place to sleep at night. If you're remodeling your basement to add a bedroom, tell your contractor to ensure that the room is built to code.
Increase the value of your home. By expanding the size of your basement, you can increase the value of your home. If you're going to be selling your home soon, expanding your home's square footage can make your house easier to sell.
Improve your quality of life. More space in your house can improve your quality of life. Do you feel cramped at home? Sounds like it's time to finish your basement and give your family more places to spend their time.
Make your home easier to sell/more appealing to home buyers. With a larger house and more functional spaces, your home is more appealing to home buyers. This can lead to a faster sale, in the even that you put your house on the real estate market.
Undertaking a Basement Remodel in Delaware
Any time you are considering a basement renovation or transforming an unfinished basement into a habitable space, it is best to consult a qualified contractor that does basement remodeling in Delaware. After all, you want to make sure you maximize your ROI and end up with the new room you envisioned from the start.
Bromwell Construction Company offers a number of different basement remodeling services that range in cost so that you can select the option that best suits your needs and preferences. We'll walk you through the basement remodeling process to ensure you're prepared. From basic renovations to complete transformations, we can provide an individualized estimate and other valuable insight to steer you toward the right renovation and help you accomplish your personal goals for this special space. Contact us today to get started with an estimate. We service homeowners in Wilmington, North Wilmington, Greenville, Hockessin, Brandywine, Pike Creek, Newark, Bear, New Castle, Middletown and more. We also service homes in Sussex and Kent counties.