Best Beaches in Delaware
As the weather gets warmer, you can probably feel the immense pull of the ocean. Stay quiet for a moment, and you can imagine the sound of the rushing waves and the salty scent of the spray. It's time to go to the beach, and you have months ahead to enjoy them. Pick one of the beaches on this list, or schedule a summer to visit them all.
Delaware Beaches to Visit
Delaware is full of opportunities to sit in the sand or get out into the water. There are even a bunch of fun activities for the whole family. When you're wondering which Delaware beach is best, use this list to help guide your choices.
Rehoboth Beach
If you want a beach with basically everything imaginable for a great weekend, Rehoboth Beach makes a great choice. It's so versatile in any season that it makes our list of the best spring getaways in Delaware. The boardwalk is a wonderful option for busy families, with an arcade, amusement parks and many dining establishments. Pick a spot on the free beach and settle down to watch the waves, swim, or people-watch.
Dewey Beach
Near Rehoboth Beach, Dewey Beach makes a great seaside getaway for couples, families and anyone who loves the beach life. Parking can be a bit tricky in this beach town but if you follow the rules, you'll find enough activities to fill a week. Rent a paddleboard and get out on the water, or stay on the beach to enjoy a music festival.
Cape Henlopen State Park
Cape Henlopen offers a bit of variety for beachgoers. The lovely sandy beaches have designated areas for swimming, staffed with lifeguards during the summer. If you like to get outside and play, you'll find bike trails and walking trails, basketball courts and more. There's also a cool WWII historic site that you can climb and explore.
Bethany Beach
Bethany Beach is another beach with a little for everyone. Like Rehoboth Beach, you should arrive early and plan for crowds. If you love to surf or ride a jet-ski, you'll find options in the area. You can also rent a bicycle for a ride, or browse the shops. Take advantage of a variety of weekly events, like movies on the beach or bonfires.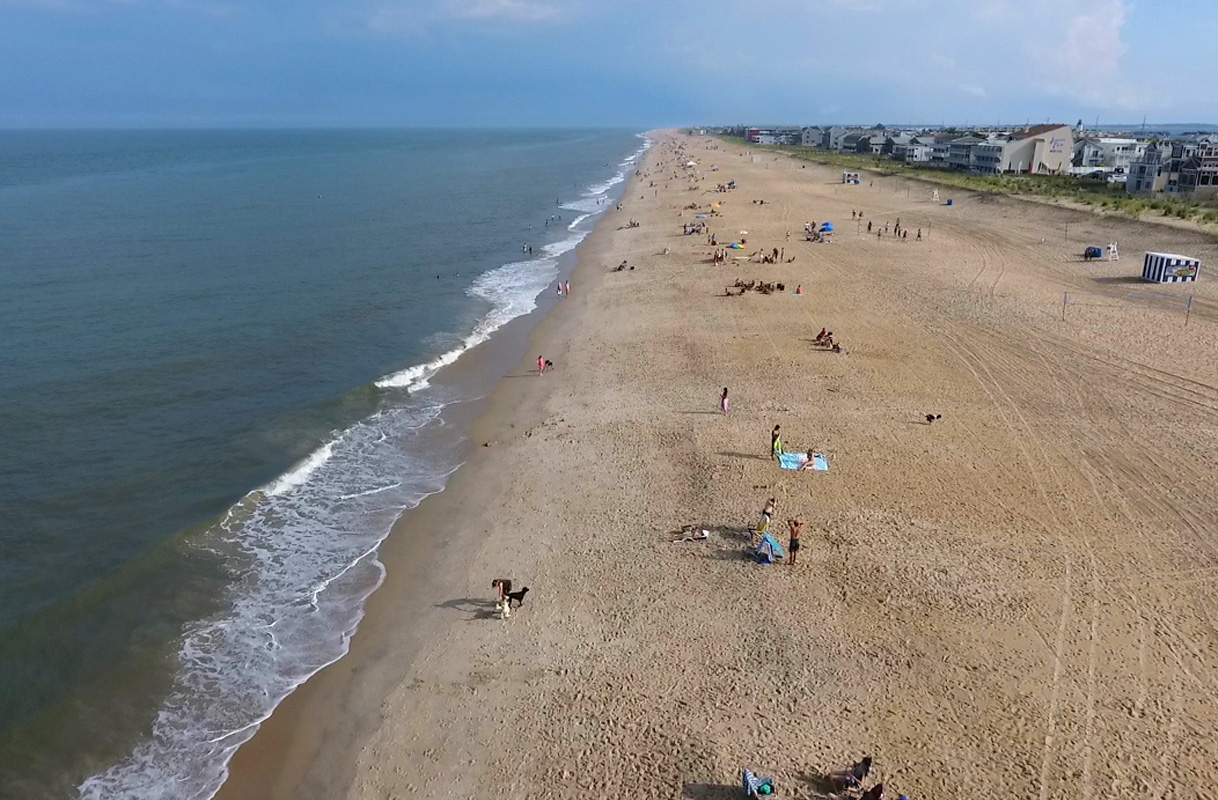 Delaware Seashore State Park
If you have been dying to take your boat or your surfboard to somewhere special, Delaware Seashore State Park is a perfect choice. You'll find areas that are designated for fishing, as well as spots to take advantage of the swells. After a busy morning on the water, you can try out one of the many nature trails or watch an educational program.
Slaughter Beach
Birding is excellent at Slaughter Beach. As a horseshoe crab sanctuary, the beach attracts a variety of shore birds. Grab your binoculars and your camera to capture a few images, and bring a picnic to enjoy lunch.
Are Delaware Beaches Dog Friendly?
If you're looking for Delaware beaches for dogs, most of the sites on this list will apply. We'd also like to mention Broadkill Beach as a great place to wander with your pup. It's not as busy, which makes it perfect for a quiet stroll among the rocks.
Looking to get your home ready so you can enjoy a holiday? Start with these spring roof maintenance tips.
What Is the Best Family Beach in Delaware?
It's not hard to find Delaware beaches for families, but Lewes Beach is definitely a great choice. Located near Cape Henlopen, this beach has plenty of coastline that is ideal for young children. The slope isn't steep and the waves are calmer, so you can let your little ones splash without as much worry.
Thinking about a home upgrade to suit your family? Check out this outstanding whole home remodel.
What Is the Best Beach Town in Delaware?
It would be difficult to choose the perfect beach town in Delaware. Almost any of the beaches on our list meets the criteria, but we'd also like to mention Fenwick Island. The state park borders the ocean on one side and Little Assawoman Bay on the other. Located in-between, the town offers everything you need for a week on the water.
Where to Find the Best Beach Camping in Delaware?
There are tons of opportunities to settle down at a beach for a lovely camping trip, but Sun Outdoors Rehoboth Bay may be the best. This campground offers a little of everything, from a variety of RV sites to primitive tent camping. If you love the beach but not a sleeping bag, they even have cottages that you can reserve for a wonderful glamping experience.
Where to Stay in Rehoboth Beach Delaware?
You'll find plenty of lodging opportunities in Rehoboth Beach, and we'd like to highlight just a few:
The Bellmoor Inn & Spa

Rehoboth Guest House

Boardwalk Plaza Hotel

The Bay Resort Waterfront Hotel
Be sure to book early, as these locations can fill up on popular weekends.
Taking a trip to one of these beaches is so much better if you have a great home when you return. At Bromwell Construction Company, we believe that your living space ought to be as relaxing as a beach trip. To find out what we can do for your home, request an estimate today.