Bathroom Design Trends to Look for in 2022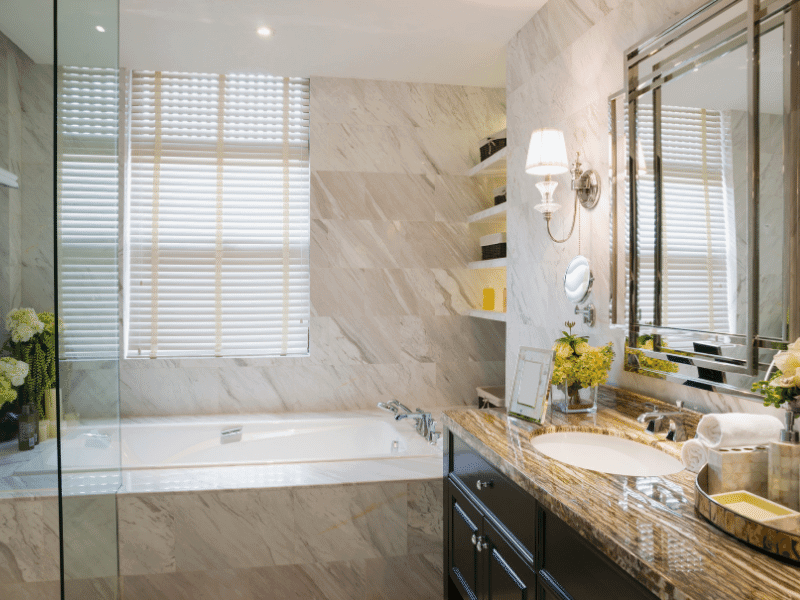 Are you thinking about renovating your bathroom in the coming months? Before undertaking the project, it is worth exploring some of the emerging colors, styles, and materials that are poised to trend in 2022.
While ultimately you should choose bathroom elements that appeal to your own taste and needs, incorporating trends into your newly renovated bathroom can keep the space modern and up to date and help protect the value of your Delaware home for future sale.
What Are the Bathroom Trends for 2022?
When it comes to remodeling your bathroom, several design elements combine to create the overall aesthetic, including the color palette, flooring, and the materials used for tubs, showers, and vanities. To stay current in 2022, here are some bathroom trends to consider during your remodel.
1. Biophilia-Inspired Designs
The biophilic bathroom design trend is a fancy way of describing the current craze for integrating vegetation into your bathroom. For many people, being surrounded by nature helps them become calmer. Considering how much time people spend in the bathroom engaging in self care and other personal activities, it's important for this space to inspire those feelings. You can accomplish a biophilia-inspired design by installing a wall full of greenery, adding a skylight or large windows to bring in natural sunlight, incorporating multiple plants into the décor, and using tiles made of natural materials.
2. Simple Décor and Striking Fittings
In this design trend – which especially appeals to minimalists – unique and interesting fittings become the highlight among glass-walled open showers, simple tiling, and a neutral bathroom vanity. Choosing copper, black, gold, brushed or shined fittings brings them to the forefront of your design in a pleasingly understated way.
3. Incorporating Emerging Color Trends
Just a few years ago, it seemed like every bathroom was gray and white. That's changed a lot! Pops of color are becoming far more popular in modern bathrooms. What colors do homeowners find most enticing? The bathroom tends to be a small space, so light colors are common, with accents of darker colors. Just about every shade of green you can imagine is a favorite among homeowners right now – including gray-green, jungle green, lime green, and so on. Other colors have also become popular – colors like creamy yellow, seafoam, blue, teal, and more.
4. Stools and Benches
Stools and benches add a small touch of comfort in the bathroom. Install a short countertop in the space, then pull up a stool to the counter for seating when you're doing your hair, applying makeup, or engaging in a skincare regimen. Match the stool to the space with colors. If possible, the stool should be cushy and comfortable – so your bathroom will also look cushy and comfortable!
5. Walk-In Showers
When it comes to showers, open-concept Italian showers that are multi-functional and fully equipped are trending. Open showers with ambient lighting, misting systems and a linear drain can give your bathroom a distinctly upscale, luxury-spa feel, in addition to making it look more spacious. If you have windows in your bathroom overlooking beautiful vistas, an open-style showering space is even more advantageous.
6. Murals
What's a unique way to add visual interest to your bathroom? Paint a mural on the walls, or install a wallpaper mural. If you're installing a mural through wallpaper, have the work done by a contractor to ensure that it will be free from creases. If you're installing a mural by painting the walls, hire an artist to ensure the work looks professional.
7. Optimizing Small Spaces
Small spaces, including powder rooms, are the perfect place to make a bold statement or be adventurous with your design. Not only is it more affordable to include high-end, luxurious materials since they cover a smaller area, but it also optimizes the room and promotes an indulgent experience. You can use dark, sultry colors, eye-catching wallpaper, floor lamps, and sinks made of concrete or marble and featuring interesting shapes.
8. Marble
Marble has a cool, clean look that just seems to belong in a bathroom. Marble can go anywhere! Install it on your walls, floors, counters, and more. One thing to keep in mind about marble: it needs regular re-sealing in order to maintain its water resistance. If you're not interested in maintaining marble but still like the look of marble, talk to your contractor about installing quartz.
9. Refined Modern Bathroom Tile
A wet room like the bathroom needs tile – but extravagant and flashy tiling is no longer in style. Modern bathroom tiles are all about the details and neutral color palettes, such as matte black and grey-toned materials. You can also use textured tiles for an elegant look that will hold up over time. If you want to incorporate a color into your flooring, opt for subtle tones.
It's also important to keep in mind that hexagon tiles with intricate motifs and wood imitation tiles are not in vogue, so stay away from them when remodeling your bathroom. Want more shower floor tile ideas? Speak with your contractor when planning your bathroom remodel.
10. Spa-Like Design Schemes
Bathrooms are no longer just a utilitarian space. They're an area of luxury inside your home. This has led to a trend of creating a spa-like environment in your bathroom. To achieve this vibe, consider adding black floor tiles, dark walls, a large free-standing bathtub, luxurious linens, wood paneling, ambient lighting, opulent detailing, and rich textures.
Incorporating Trends in Your Bathroom Remodel
As you hone in on the purpose and cost of your bathroom renovation, take your project a step further by considering how you can integrate 2022 bathroom style trends and styles into the space, and take a moment to compare the costs of different bathroom materials.
At Bromwell Construction, we're committed to remodeling your bathroom so it is not only functional, but also comfortable and aesthetically pleasing. Want modern master bathroom ideas? We can help! Call today.
Want to know more about remodeling your bathroom in 2022? Take a look at our bathroom remodel cost guide for more information. Contact Bromwell Construction today for an estimate.