Decking Costs
Perhaps you are trying to decide whether it's time for a new deck, but you're concerned about cost.
A new deck adds a lot of value to a home, but the investment can be daunting. Here's a breakdown of the common costs associated with building a beautiful new deck in Delaware.

What Does a New Deck Cost?
Here's a rough way to estimate the grand total, without getting into the nitty gritty details yet. Measure the square footage of your proposed deck — or measure your current deck you plan to replace — and multiply it by the price of the deck material you will use.
Notes:
Cortex screws and plugs with the Azek hidden fastening system are included in these costs for any deck size.
The minimum deck size Bromwell Construction Company and many other builders require is 120 sq. ft.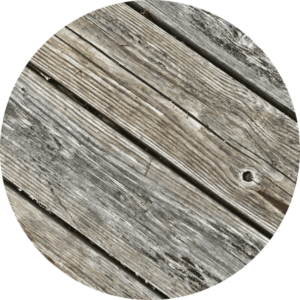 Deck Removal Cost – If you have an old deck you are replacing, also factor in the costs to tear it down. Bromwell Construction Company usually charges $4.00 per sq. ft. to tear down and remove your old deck (dumpster included).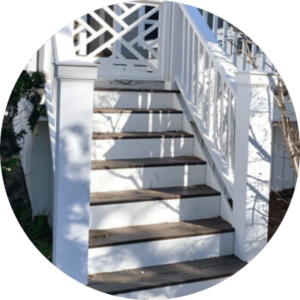 Deck Stairs Cost – Deck stairs cost $200 per step. If you are getting more than 6 steps, you may want to consider a landing too, which would increase the cost slightly.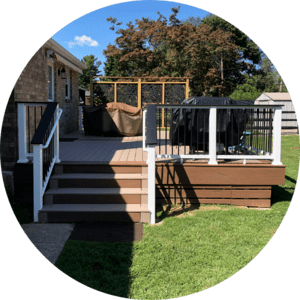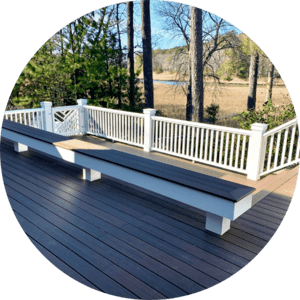 Optional & Miscellaneous Deck Costs
Crossbuck lattice with access door – $125.00 per sheet. To prevent the critters from getting under your deck. Additional types and styles are available at an additional cost.
Aluminum deckorator balusters – Available in round or square and in white, black or bronze.
Weed barrier & drainage stones – There are a variety of stone and colors to choose from and this usually runs almost $4.00 per sq. ft. installed. Advised for low decks in wet areas.
Custom Built-Ins, like built in deck benches
Deck lighting – We offer many options for deck lighting, so costs vary, but are usually $150 per light:

Under railing lights
Side mount rail post lights
Post cap lights
Building with Bromwell Construction Company
If you build with Bromwell Construction Company, our Timbertech® Azek decking includes a pressure treated frame built as described below:
2×8 floor joints 12" on center
Double 2×10 beams carriage bolted to 6×6 post supports
An additional beam also is installed 2′ in up against the house wall for added support of the ledger.
Front and back of the beams can wrapped in plastic for $110 / every 16 linear ft
6×6 Support beams can be wrapped in vinyl sleeves for $110.
16" wide x 36" deep or 16" wide x 32" deep concrete footings.
If you are ready to build a new deck or have additional questions, reach out to the Bromwell team.
Schedule a Complimentary Consultation
Customer Reviews
We could go on for hours about the quality of our work, our family's dedication to the craft of home remodeling, and other factors that separate Bromwell Construction from other contractors. But there are no voices more important than those of our past customers. Read what they've had to say about the experience of working with Bromwell Construction:
H. Baker
"Bromwell came out and installed a new roof and did an awesome job. I hired them back to do my windows. Start to finish, both times were an awesome experience. Everything looks awesome. Would highly recommend."
H. Inden
"We were very pleased with Frank Bromwell's company and their remodel of our bathroom. We live in a very old Victorian house in the City and they were very experienced with old city homes. His crew were great, friendly and very professional. Highly recommended."
D. McMe
"Taking our bathroom down to the studs and putting in a new one the experience with Bromwell was excellent."