Roof Overlay vs Tear Off Roofing Methods: Which Is Best?
If your roof is suffering from extensive damage or disrepair, getting a new roof is a necessity. Waiting too long to undergo this project can cause further structural damage to your home and present a safety hazard. You'll first need to find the best roofers in Delaware to begin the process of getting a new roof.
There are two primary methods for putting a new roof on your Delaware house. You can either try re-roofing or instead tear off the roof and install an entirely new one. Choosing the right approach for your situation depends on several factors, such as how extensive the damage is, whether you've re-roofed before, the building type and usage, and roof access.
What Does Re-Roofing Mean?
The first approach to consider when you need to address roof damage is re-roofing or overlayment. This simply means adding a second layer of shingles over the existing roof, rather than removing the old material first. You can also install metal roofing over existing shingles. There are a couple benefits associated with re-roofing: namely, it is a faster and more cost-friendly method for taking care of the problem because you don't have to deal with tear-off and disposal costs.
However, there are also a few caveats when it comes to re-roofing. For instance, building codes in most jurisdictions only permit you to overlay your roof once. That means if you – or a previous owner – have already re-roofed your home, you have no choice but to completely replace the roof and assume the cost.
The other issue with re-roofing is that, without taking the roof down to the sheathing, you can't examine if the under layer has problems, such as ice build up, water damage or rot. You also can't install a barrier to prevent ice and water leaks, which means if you have an ice dam in the wintertime the water could leak under the original roof after travelling past the overlaid materials. Additionally, without inspecting the condition of the roof substrate, it is difficult to assess whether it can safely bear the weight of the second roof.
Warranties for re-roofing are also not guaranteed but rather dependent on the individual roof manufacturer. Be sure to ask the project manager of your roof installation project about the warranty provided by the manufacturer of your roofing material.
Tear Off Roof and Install New One
From a structural perspective, the method of taking off the existing roof and installing a new one is preferable, especially if more than 30% or 40% of the roof is damaged. Instead of merely patching up a major component of your home, you're actually resolving the root of the problem with the tear-off roofing method.
With this approach, you get a whole new roofing system in addition to key information from inspecting the roof substrate to ensure there is no other home damage that could compromise the replacement roof. You can have more confidence in the new roof and its ability to preserve your home's structural integrity.
While tearing off the existing roof and installing a new one can be up to twice as expensive as re-roofing, you can get anywhere from a 30-year to a lifetime warranty for the new roof. With Bromwell Construction's roofing team, the cost also includes the dumpster rental and disposal fees.
Roof Overlay vs Tear Off Approach
Your roof is one of the most critical components of your home. When it comes to deciding between the cheaper and faster roof overlay option or the more durable and value producing tear-off method, we almost always recommend the tear-off method if your budget allows. It's better to bite the bullet now to ensure structural integrity for decades to come. Chances are, you will have to eventually use the tear-off roofing method anyways since re-roofing has a shorter life expectancy and can only be done once. In the meantime, you face potential risks like leaking and caving in if you choose overlayment and the under layer has undetected damage.
By replacing the entire roof with the help of an experienced contractor such as Bromwell Construction, you are investing in a long-term solution that will last for years to come, more effectively serving your family and protecting your home and everything within it. We are a Owens Corning Preferred Roofing Contractor, which gives all our customers assurance and trust in the long-term results our roofing work.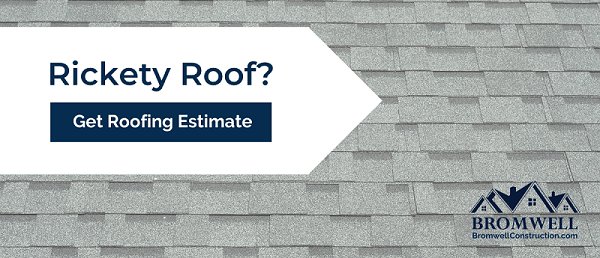 Sources
"Pros and Cons of a New Roof Vs. Overlay." Angie's List, By Angie Hicks, September 2011. Accessed online at https://www.angieslist.com/articles/pros-and-cons-new-roof-vs-overlay.htm
"Roof renovation tips: Making the choice between overlayment and tear-off." Building Design + Construction Network. May 08, 2013, C.C. Sullivan and Barbara Horwitz-Bennett. Accessed online at https://www.bdcnetwork.com/roof-renovation-tips-making-choice-between-overlayment-and-tear
"How to Roof Over Existing Shingles." Better Homes & Gardens. Accessed online at https://www.bhg.com/home-improvement/exteriors/roofs/how-to-roof-over-existing-shingles/