The Best Neighborhood Christmas Lights in Delaware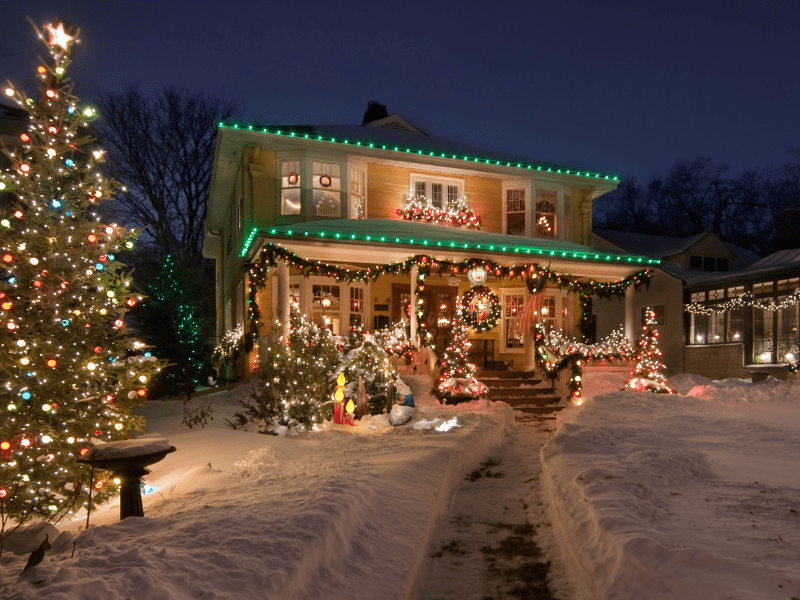 Looking at holiday displays and Christmas lights is an age-old tradition for many families in Delaware. This winter, it will be an especially fun and effective way to celebrate the holiday spirit with social distancing still in practice across the state.
Are you wondering where you can see Christmas displays near you? You're in luck! The good news is that if you live in Wilmington, Delaware or the surrounding area, you don't have to travel far to see some breathtaking light shows and decorative displays.
Delaware Christmas lights are all around us! As you celebrate the holiday season this year, plan a night to pack up your car with your family or friends, along with a blanket and a cup of hot cocoa, and tour your local community and beyond to experience some of the best Christmas lights in Delaware.
Christmas Light Displays in Delaware
In most communities, there are those homes and neighborhoods you don't want to miss viewing during the winter holidays. Delaware has several such well-known attractions. As you head out in search of Christmas light displays in Delaware, here are some of the neighborhoods and specific sites you should include on your list:
1. North Wilmington – Smith's Lights on the Hill
This Christmas house light show is one of the best in Delaware, which has been delighting families for decades, is put on by local residents rather than an organization or government entity. Nonetheless, Smith's Lights on the Hill has become a citywide tradition, attracting locals and visitors with interactive displays, inflatable lawn ornaments and thousands of lights.
The house that serves as the centerpiece for this breathtaking display is located just off Silverside and Prior Roads. The Ronald McDonald House of Delaware, also in Wilmington, has a reputation for being beautifully decorated during the Christmas season as well.
2. Kennett Square, Pennsylvania – Longwood Gardens
Not technically in Delaware but located only about 12 miles from Wilmington, Longwood Gardens in Kennett Square, Pennsylvania, is well-known for its lighted holiday displays and gardens filled with poinsettias, wreaths, and towering ornament-laden Christmas trees.
Visiting Longwood Gardens makes for a fun outing for families any time during the year, but the site is especially worth exploring during the winter holidays. This year's "A Longwood Christmas", which is on view through January 10, 2021, is brimming with "comfort, warmth and the coziness of nostalgia." Wander the grounds and enjoy acres of twinkling lights, or take a ride on the whimsical Garden Railway and find magic within a shimmering tunnel of light.
3. Milton, Delaware – Winter WonderFest Delaware
Winter WonderFest started in 2016 at Cape Henlopen State Park, but the event has since been relocated to Hudson Fields off Route 1 in Milton, Delaware. It runs through the end of December. As you drive through, you'll be entranced by more than 1 mile of spectacular lights and interactive displays on your way to the finale: Santa's Workshop, complete with Santa Claus presiding over numerous cheery elves happily working away.
4. Odessa, Delaware – Christmas in Odessa
As a historic town settled by the Dutch in the 17th century, Odessa is given a Colonial-style makeover during the holidays that will transport you to the past for a simpler, sweeter take on Christmas festivities. Touring the neighborhood for the Christmas in Odessa event, you are sure to see plenty of fresh green garlands and wreaths, along with warm candle-like lights. After the official tree-lighting takes place, there's never a bad time during the month to walk through town with a warm drink and celebrate the season in vintage style.
5. Bear, Delaware – The Family Christmas House
The Faucher Family Christmas House has helped transform Red Lion Road in the Bear community of New Castle County into Santa Claus Lane for about 30 years. The Faucher family traditionally decks out the house with more than one million twinkling lights to create a spectacular sight for passersby. The light show gets better by the year, and the best part is that you and your family can witness it for free.
6. Rehoboth Beach, Delaware – Apple Electric Light Show
Downtown Rehoboth Beach is a charming place to enjoy the holiday season, with local shops often decked out in twinkly lights, greenery, and tinsel. In addition to these lovely window displays, you can also catch Apple Electric's famous electric light show, in which approximately 50,000 lights are synchronized to upbeat Christmas tunes. The show coincides with Apple Electric's yearly effort to collect donations for Toys for Tots and give children across Sussex County a merry holiday season.
7. Wilmington and Western Railroad – The Holiday Lights Express or The Santa Claus Express
Hop aboard the Holiday Lights Express—or the Santa Claus Express—for a one-hour evening excursion on the Wilmington and Western Railroad. The vintage Doodlebug train car is decorated with thousands of lights on the interior and exterior, and many homes along the route boast their own splendid displays for passengers to enjoy on their ride.
8. Yuletide at Winterthur – Winterthur Museum, Garden & Library
Visit the Winterthur Museum, Garden & Library for a unique holiday experience in Winterthur, just 5 miles from Wilmington. The Yuletide tour features the rooms of Henry Francis du Pont's former home, decorated in everything from poinsettias to specially decorated trees. Each display in the home is inspired by the traditions of the times as they would have been celebrated by the du Pont family. For those who love jazz, the Winterthur museum also features Wonderful Wednesdays with evening jazz performances, caroling, and workshops.
9. Holidays at Nemours Estate
Holidays have been a festive time at the Nemours estate since the mansion was built in the early part of the 20th century. The mansion is now decorated with some of the original decorations from its first holiday season.
Ornaments on the tree belonged to the DuPont family, while some ornaments were made by patients at Nemours Alfred I. du Pont Hospital for Children. You can visit the estate or learn more about the Nemours Estate on their website. Nemours Estate is located in Wilmington, so you can visit Nemours at the same time that you visit other Wilmington events like Smith's Lights.
Loving Your Home and Community in Delaware
It's Christmas in Delaware! Throughout the state, there are plenty of festive ways to enjoy the holiday season this year. However, one of the best parts of winter is also relaxing and resting in the warmth of your own home. Bromwell Construction Company offers a range of residential remodeling services to improve the function and form of your house, inside and out. Our team can take on any home improvement projects you wish to tackle this winter, giving you more time to devote to reveling in holiday activities with your family and friends.
Whether you're trying to winterize your roof or optimize your kitchen to receive guests, we can help. We also can help you get a jump start on planning and preparing for a remodel in the spring. We service the areas in New Castle County, Chester County, Sussex County, Kent County, and Delaware County, including Wilmington, New Castle, Hockessin, Dover, Smyrna, and more. Contact us to request an estimate today.